A Retreat to Remember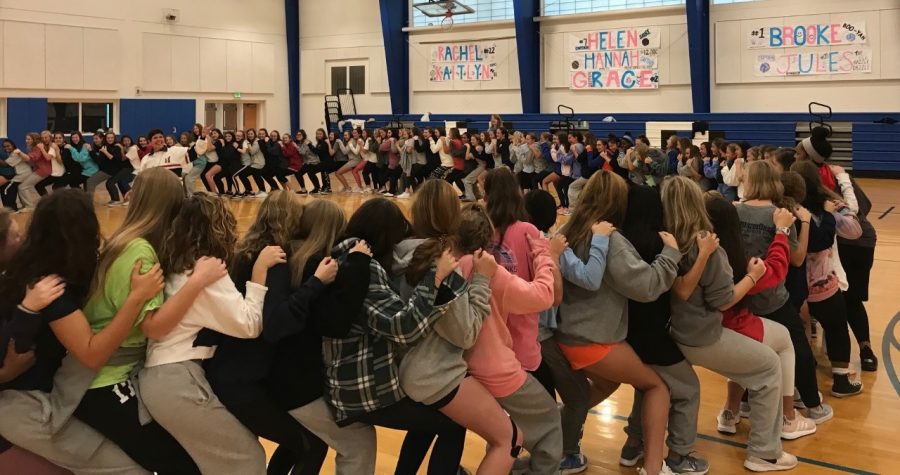 After almost two whole months at NDP, I couldn't have been happier with all of my experiences. So, I was definitely excited for freshman retreat, a time where I would get to know more of my classmates and find out our class colors. And the day certainly did not disappoint!
On Wednesday, October 16, NDP's freshman class came together on campus to hold an amazing retreat. As we were led by many of our great faculty and seniors, the freshman class spent their morning doing many fun-filled activities, with their entire class and in small groups.
The day began with an introduction and a prayer service led by Mrs. Keady, our campus minister. Afterwards, we made our way to the Upper Level Gym for different activities. We started by breaking into small groups to do some icebreakers. Then, we came together as a class to do some fun games, including tag (with a couple twists), learning the values of communication and teamwork along they way. After the games and a small snack, we made our way back into the main school building with our small groups.
In the classrooms, each group of freshmen was led by a senior in discussion and self-reflection. We each talked about what we liked about NDP, what we didn't, and everything in between. Each of the freshmen also wrote letters to their future selves (to be opened on Senior Retreat) and decorated small crosses to be hung in advisory.
As we finished up our small group activities, everyone made their way to the chapel once more for a closing prayer service. We discussed the significance of our crosses with Sister Patricia and closed in song led by Mrs. Bilenki. And finally, with each of us bubbling with excitement, we were led to the foyer for the revealing of our class colors. As the doors to the dining hall were opened, many started shouting in delight at the results. Pink and orange had won! As we all settled down in the dining room, which was adorned with our class colors, we sat down to eat a wonderful lunch with our friends, old and new.
I couldn't have been more happy with the way retreat turned out. It was a wonderful experience, and I can't wait for the next one like it.