Sophomores In Gettysburg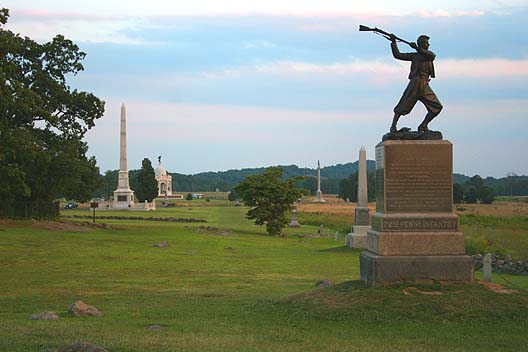 On March 24th the students of NDP went on field trips. The class of 2018 all hopped on buses and were whisked away to the historic battlefield of Gettysburg.
After watching Gettysburg on the bus ride, we arrived at the Gettysburg Museum of the Civil War. For those who ventured past the gift shop filled with fudge and pocket Constitutions, they were rewarded with walls filled with guns, instruments, and military uniforms. Then, we all piled back into the buses, along with a newly acquired tour guide and went driving around Gettysburg and the infamous battlefield. We saw many markers for regiments and monuments to the men who endured the bloodiest of battles. Despite the cold and rain, we walked around the Devil's Den, saw a real canon, and stood on Little Roundtop. The fog gave the ground below an eerie look that made it almost feel like the battle was occurring in that very moment; the air filling with gunfire and smoke. Back at the Gettysburg Museum we sat down to watch a short documentary entitled, A New Birth of Freedom. The voice of Morgan Freeman detailed the events that brought along the most chilling of battles. The last stop of the field trip was in a room called the "Cyclorama." The Cyclorama is a circular room that has a painting wrapped around it. The painting itself was made in the late 1880s by Paul Philippoteaux. With lighting effects and narration. the Battle of Gettysburg occurred right in front of us. After that, I spent the bus ride back to NDP emotional and excited, something that was rather new to me. I love history but my chances to experience and learn about it are few and far between. Gettysburg is a powerful place that has left a long lasting impression on me and many of the other girls. It proves that history matters.
In closing, here are a few of the things that the class of 2018 said about the trip:
"It was amazing to think you were standing where history was made." -Elizabeth Baummer
"When hearing about how tragic this battle was and how many people died, it made me really upset." -Rhea Santos
Sources: https://www.nps.gov/gett/planyourvisit/visitorcenters.htm
http://www.gettysburgfoundation.org/13/see-the-cyclorama-and-film
Photo: https://upload.wikimedia.org/wikipedia/commons/e/ed/High_Water_Mark_-_Cemetery_Ridge%2C_Gettysburg_Battlefield.jpg