Freshman In Three Biology Classes Too Scared To Tell Ms. Casey That She May Have Made A Mistake Making Her Schedule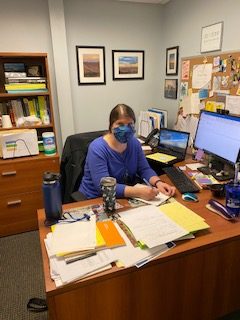 At first, Sophia thought all freshmen were in multiple sections of biology.
"I'd heard of other girls doubling or even tripling up in science classes. They were all older, like juniors and seniors, and I thought it was pretty cool to do that, too."
But then the work got repetitive, the same lessons presented three times in two days, week after week.
"I have Mr. Peri twice, once Monday morning and again Tuesday morning, then back on Thursday and Friday mornings. I don't know if he's noticed. Maybe he just thinks I like biology. I got pretty bored during the second class, but I made a game of it, whispering the words I knew were coming under my breath, preparing to laugh at the upcoming joke. It became predictable, but I made it fun."
Sophia's friends only found out when they asked who she had for English and Religion, and she replied with a condescending scoff and curt reply, "I already know English. I go to Mass virtually like three times a month. Why would I waste my time taking those classes?"
They pressed her, saying she had to do something.
"I don't know why she wouldn't," one friend said. "She always complains how bored she is. Why would she do this to herself?"
It wasn't until the Registration Information Session for the 2021-22 school year was held on Zoom in early February that her friends noticed what was wrong.
"We actually were at her house that Wednesday because we wanted to work on our math homework together, and we joined that Zoom with Ms. Casey. I don't know what happened, but whenever Ms. Casey came on, Sophia just trembled. She seemed terrified of her. Of course she wouldn't want to go to her to make the change. She literally couldn't."
Even now, Sophia refuses to speak her name. "She's just mean! I don't know, maybe I have a fifth sense about these things, but I can just tell she's a meany. I've literally never seen her smile. And I know I've only seen her wearing a mask, but I can tell. It's like I have x-ray vision or something. Probably because of all the biology I've taken."
After being asked if she regrets never speaking up, Sophia answered with certainty, "Never! I'm actually really happy with my classes now. I've really come to love bio, and I always hated science, so that's, like, huge for me to say that. Plus, I'm doing really well, especially in my Tuesday/Friday afternoon class. It's like that saying third time's the charm. My teacher looks at me like I'm a genius. I love it. I even thought about taking AP Bio next year, but I don't think sophomores are allowed to and I really don't want to ask you-know-who. I can wait. I've become very patient this past year. I have to be, especially during my second and third bio classes. Some kids just don't get it, and I don't know why."