Tree Trim 2019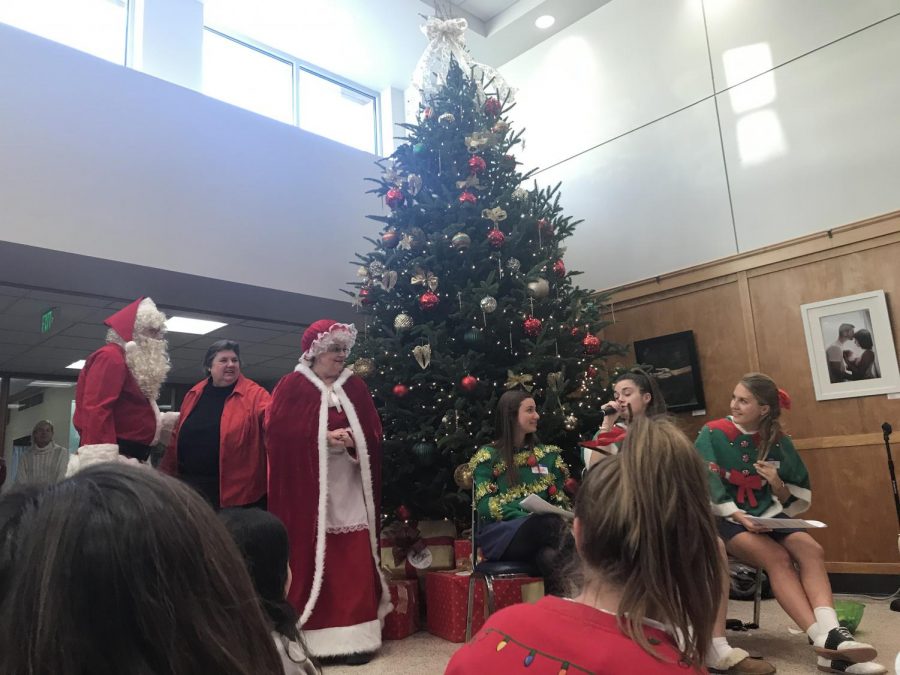 Although the weather outside is frightful, Christmas at NDP is delightful! NDP students and staff gathered at 3:00 p.m. sharp on Thursday, December 5, to celebrate one of the school's most cherished traditions: Tree Trim.
After getting raffle tickets, reindeer antlers, and painted noses, of course complemented by their ugly Christmas sweaters, everyone sat in the foyer in front of the beautiful Christmas tree and waited for the festivities to begin. This year's leaders were the elves Jingle (Catherine Kinkopf), Jangle (Liza Regan), and Jack (Cece Cavolo), who inspired lots of laughter with their corny jokes. As advisory representatives placed their ornaments on the tree, everyone sang carols, from "The 12 Days of Christmas" to Justin Bieber's "Mistletoe." The carols were accompanied by Mr. Smith on the piano, as well as the Ukeladies for the song, "Feliz Navidad." And of course, everyone waited with anticipation when a ticket was drawn for the raffle gift card prizes.
After the raffle drawing was over, Jingle, Jangle, and Jack entertained with a poem describing their struggle to bring the Christmas tree to the foyer. And finally, upon singing "Santa Claus is Coming to Town," Santa and Ms. Claus, who looked a little like Mr. and Mrs. O'Hara, came and greeted everyone!
Finally, Tree Trim would never be complete without cookies and cider, so everyone went into the cafeteria to enjoy their class's delicious creations. It's safe to say that Tree Trim 2019 was a wonderful transition into the holiday season.