Galentine's Day
An alternative to a classic holiday
Hang on for a minute...we're trying to find some more stories you might like.
One year later, and here we are again, still single. Last year, I wrote about the annual loneliness many people experience on Valentine's and gave various solutions to the dilemma (go read that article, too!). This year, I'm taking my own advice.
Let's talk about Galentine's day. A celebration of the friendship and love between gal pals. For me, the mutual appreciation and support that my friends provide are some of the most important and integral parts of my life. It seems only appropriate to honor those relationships on a day devoted to love (especially if you don't have another ~special someone~ in your life).
Valentine's falls on Thursday, February 14, 2019, this year. My friends will be attending our very own Galentine's the following Friday. Below, find some ideas for your own party or small get together to celebrate the special gals in your life.
– Any card game! Each of us is going to bring a game with us (ex. Taboo, Apples to Apples, Uno) and play them through the night.
– Karaoke! Even if you don't have a machine, you can cast your phone to your TV and pull up sing-alongs on YouTube. Nothing is more fun than singing your hearts out (at the top of your lungs) and breaking down in laughter with your friends.
– Baking! Pre-mix some batter or dough for your favorite snacks and get in the kitchen together to bake some goodies!
– Movies + Nails! If you plan on staying the night, a great idea as it gets late is to turn on a chick flick and pull out some fun colors to paint your nails. Try some fun designs you wouldn't normally try! You can always take it off later.
– Fancy dinner party! Feeling in the mood to treat 'yo self?  Have everyone wear something nice and set the table with some pink and red pops of color. Have everyone bring a dish to share and sit down for a formal dinner with your ladies instead a date 😉
– White elephant gift exchange! I know it's normally thought of as a Christmas activity, but it can be just as much fun at any large get together. Have everyone bring a fun gift and play the classic swapping game to simulate getting a gift from your boo. (Alternatively, instead of Secret Santa, secret St. Valentine!)
All in all, just remember that the day is really about appreciating any kind of love in your life. (P.S. This includes YOURSELF! Show yourself a little self-love!)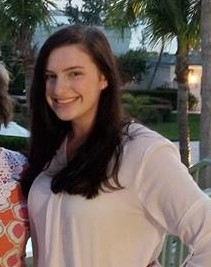 Alexandra Docken, Membership Coordinator/Staff Writer
Hi, everyone! My name is Lexi and I'm a junior this year! I'm the Membership Coordinator this year, also! When I'm not writing, I enjoy studying science...