2020 Ring Day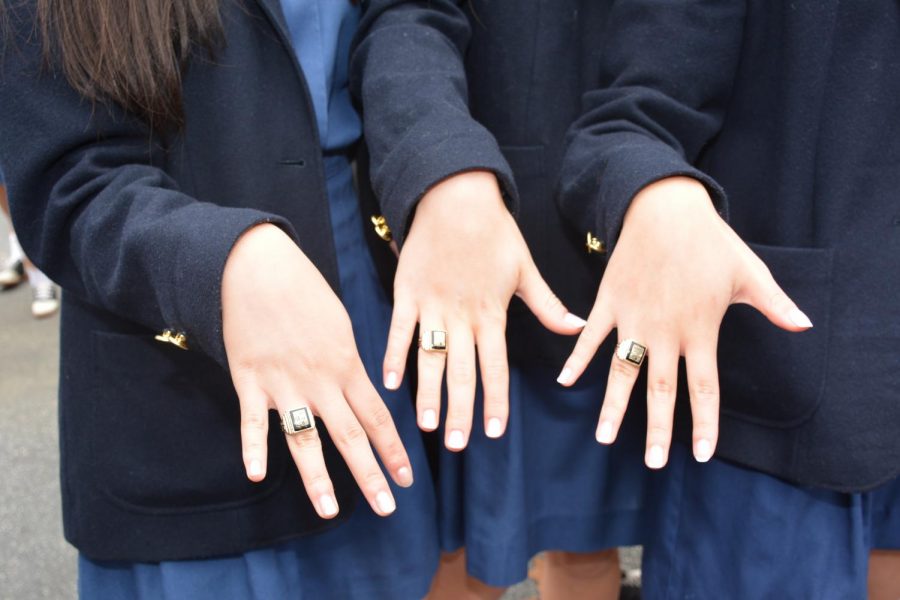 Danielle Escobal, Assistant Editor
November 9, 2018
Ring Day. One of the most anticipated days for any NDP student has finally come.
The Class of 2020 received their rings on Friday, October 26, with extremely high spirits. Advice and stories from our older sisters created high expectations for us and the excitement could be felt from the Class of 2021 and our little sisters. Even our teachers showed their support by wearing our class colors. It felt extremely comforting to feel the support of the whole school for the Class of 2020. From the Foyer to our lockers, the cafeteria, and even in the bathrooms, the spirit of the Class of 2020 was present. Blue and pink was everywhere.
As we drove by Hampton Lane with white saddles, perfected blazers, styled nails, and bright smiles, the anticipation kicked in. Our decorated, candy filled lockers and our wonderful seniors greeted us as soon as we walked through the door. We received many hugs and exchanges of excitement from the enthusiastic sophomores. And our freshman sisters met us with wide eyes and bright smiles.
After morning practices and late night decorations, we attended our liturgy with full spirits, singing our hearts out to "All the People Said Amen." And before we knew it, we were walking in time to Jason Mraz's "Have It All" and looking over our shoulders to smile at our fellow classmates. We made our way to our seats with the bright lights shining on us. The stage was filled with nothing but happiness as we watched each other receive our rings.  Walk. Ring. Shake. Smile. The process was ingrained in our brains. We all looked at our president, Grace Hayden, with wide eyes and admiration and she announced our bond, knit, and unity to the entirety of the NDP community. And as we placed our rings on our fingers, we consolidated our promise to one another and to ourselves. We sang loud and proud to "Somewhere Only We Know," feeling every word our song committee wrote. Then we were processing out to "Don't Forget Where You Belong," excitement following every step we took.
After a plethora of celebratory pictures and ring turning by the ones who care for us the most, we had seven hours of down time to ready ourselves for the dance. We were nails, hair, makeup, and of course, dress "ready" for the night. The dance was like our very own fashion show. I find that there is something so fun and thrilling about dressing up or seeing friends dressed up. Sometimes I forget that there is more to everyone's style choices than the Blue Dress. We danced the night away, successfully dancing to Beyoncé's "Single Ladies" with our new rings.
Before we knew it, the night was over. But the excitement of our rings travels on. The next day, I went to my dentist's office and sat next to a mother who just so happened to be an NDP graduate. Because I was wearing my ring sweatshirt and ring she immediately asked me how ring was and how excited I was for the festivity of the day. Time will tick and days will pass, but similar to this mom I met at the dentist, our rings will unite us wherever we are.