A Trio of Ring Reflections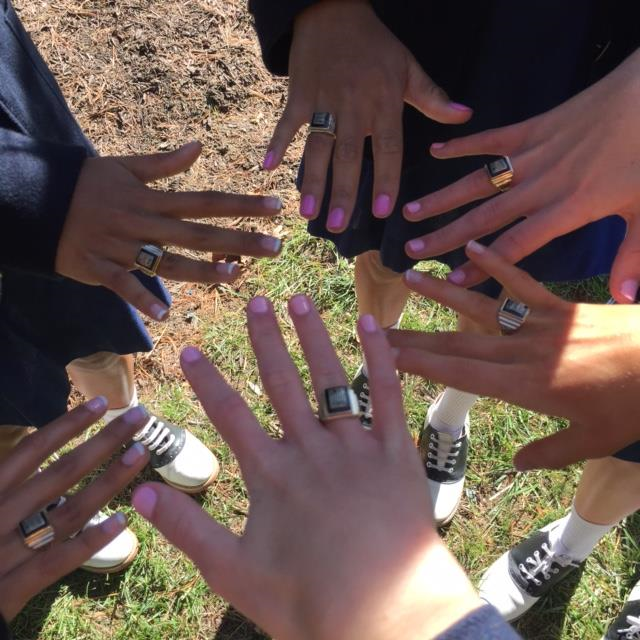 Katie Lorenz
Over the past few weeks, the junior class had been getting ready for our Ring Day and Dance, becoming more excited the closer it got. When October 27 finally arrived, we had practiced until we knew the ceremony by heart and were ready to receive our rings. Before the ceremony, we celebrated our Ring Liturgy with our families. The liturgy included advisory gifts, which reminded each advisory of their time on retreat together, and a teacher reflection from Mr. Ellis. By the end of the liturgy, the entire class was dancing along to the closing song as we celebrated ring day. Following liturgy, the whole school came to see us receive our rings. As we put our rings on our fingers during our class president's speech, everyone felt that they were closer to the girls around them. Sister Patricia had explained in her speech that these rings connected us to our sisters in our class, and ours sisters who came before us and who would come after us. Once we received our rings, we officially became upperclasswomen. After singing our ring song, we processed into the foyer to turn each other's rings and take pictures with our families. Later that night, at the dance, we had the opportunity to commemorate the day with our sisters. Now, whenever we look down at our rings, they remind us of our sisterhood and knowledge.
Sydney Burns
As Mr. Ellis reflected during Ring Liturgy, we should live in the now. Now is the juniors' time to appreciate life and all that is has to offer. To reflect on "how far we've come" on our high school journey. Junior ring was a time for me to appreciate the little things and truly understand how much NDP means to me. Although the ring is beautiful in itself, the symbolic meaning of it overweighs it all.
The ring means compassion, hard work, and the dedication to serving that NDP has taught me. Over my two and a half years at NDP, I have learned the compassion and love that I had only dreamed of learning before attending this school. Serving the community and showing love towards others have become important values of mine. Therefore, every time I gaze at this ring, I am reminded of these values.
On Ring Day, the part that impacted me the most was placing the ring on my finger while surrounded by my fellow sisters. That moment was truly unforgettable and is a moment I would relive over and over again. Finally, one message that I have to the freshmen and sophomores is to never wish away time. Mr. Ellis made an important point on time. It seemed just like yesterday that I was a freshmen at orientation, and now I am a junior that just received her ring. One thing that this experience has taught me is that time is of the essence, and we should cherish every moment that we can before it is over.
Mary Lorenz
From the minute Ring Day began, it was filled with excitement. When we would normally be dragging ourselves out of bed to make it to school on time, many of us got there with extra time to celebrate with our sisters. A final practice allowed finishing touches to be added to the ceremony. Then it was off to take pictures before Mass!
During Mass, we all sang and danced to the songs like never before, and took Mr. Ellis's words to heart when it came time for his reflection. His reminder to appreciate everything and not constantly want what's next is a message that many NDP girls can relate to, but particularly the class of 2019 on their Ring Week. The reading about friendship struck a chord with me that usually does not happen during liturgy, and I was so happy it happened on Ring Day.
After a quick reset for the ceremony itself, we began to process in. Smiles on our faces, this time surrounded by our sisters of different classes, we all knew it was the moment we had been waiting for. Before we could even realize it, 11A was called to their places on the steps. Each advisory followed, ready to finally possess the sacred onyx and gold ring.
However, before we put on our rings, one more tradition had to take place. Our class president, Caroline Borja, gave her speech. True to her personality, it was both hilarious and meaningful. As the speech went on, we anxiously awaited her command to slip the rings onto our fingers. When the moment finally came, we all beamed with pride and took time to reflect on how much we had accomplished at NDP. Each girl in our class, I feel, has found a sisterhood at NDP, and I am beyond lucky to be a part of it.
The day went on to include parties, dinners, and the famous Ring Dance, but for me, the most special part remained the ring. Our hard work and dedication in academics, sports, music, theater, extracurricular activities, and more was recognized on this day, and now, every time I look down at my finger, I have a reminder of just How Far We've Come.