Gilmore Girls: A Year in the Life Review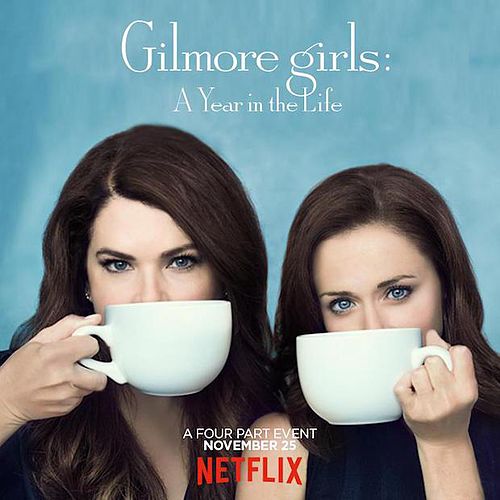 Gilmore Girls fans everywhere rejoiced when Netflix announced that there would indeed be more episodes of the beloved show, and almost all the major actors would be returning to reprise their roles as Stars Hollow's favorite townspeople. Lauren Graham, Alexis Bledel, Scott Patterson, and Kelly Bishop would be among the essential returning characters. In addition, it had been almost 10 years since the showrunner, Amy Sherman-Palladino, let it be known that she had a "final four words" for the show, and because she did not spearhead the show in its seventh season on TV, never made them public. In a frenzy of excitement surrounding the new episodes, the only disappointment was to be that the character of Richard Gilmore would not be returning, because the actor who played him, Edward Herrmann, died in late December of 2014 after a battle with brain cancer. Dedicated fans were anxious to discover how this event was portrayed in the world of Gilmore Girls, because the show would certainly not be the same without its patriarch.
The single biggest debate since the show's ending in 2007 has been related to Rory Gilmore's boyfriends. Fans divided themselves into Team Dean, Team Jess, or Team Logan, and relentlessly argued why their position was most definitely correct. Now that all three of the characters would be returning for the revival, our questions would be answered. Even before the episodes premiered, there was speculation based solely on how many installments each boy was set to appear in. The anticipation was met with an initial shock that Rory already had a boyfriend, and it was not one we knew from before. To me, it was immediately clear that Paul would never last, seeing as no one could even remember his name, or seem to care about him at all. The first boyfriend to appear, Logan, was on a path similar to the one laid out to him at the end of the original series. The relationship between him and Rory seemed, in my opinion, very out of character for her, because the entire relationship was secretive. The fact that she kept it from her mother, her best friend, was particularly out of place. Their last hurrah in the end of the revival left most people thinking if Logan was going to ask Rory to marry him again, but instead left with nothing. Jess, the next boyfriend to make an appearance, seemed much more secure than when we first met him in Season Two. Finally into his comfort zone, he seemed to be successful and happy. The Team Jess camp could not be satisfied, however, because after a questioning Luke inquired if Jess was truly over Rory, his eyes and his words told two drastically different stories. The third and final boyfriend to set foot on the revival was a brief and descriptive one. Dean, only appearing for a moment in Doose's Market, gave an entire life story in just a few minutes. To know that he was living in Scranton with a big family was satisfying for Rory, because even though they never ended up together, they had a long relationship, the longest of all three of her boyfriends. Even though this theme was dominant, Amy Sherman-Palladino is quick to say that the romantic relationships on the show are secondary to the most important relationships, the mother-daughter relationships.
It is no secret that Lorelai and her mother Emily didn't necessarily get along in original series, and at first it seems as though things haven't changed much. Grieving over the death of her husband, Emily is horrified when Lorelai is unable to act appropriately at his funeral. The revival opens with this argument open, with a brief flashback to explain the rift. As they begin to repair the relationship, I found the fact that Emily went to therapy and took Lorelai with her. In our society, mental health is still a topic that many don't believe is as important as physical health, and Gilmore Girls did an excellent job of proving them wrong. The fighting in those scenes was entertaining and disappointing at the same time. This relationship eventually bleeds into Lorelai's romantic relationship with Luke.
The establishment of a relationship with Luke and Lorelai was no surprise and was not kept a secret before the premiere, considering it is kind of perfect. Over the course of the revival, the lesson that Luke and Lorelai have to learn is to actually tell each other stuff instead of keeping everything inside. This storyline inspires a trip for Lorelai, a hike of the Pacific Crest Trail. I wholeheartedly agree that if you're going to do Wild, do the book, not the movie. An ambitious Lorelai is ready, despite her contrary beliefs that nature isn't worth spending any time in. The trip ends up patching the relationships between both Lorelai and Luke and Lorelai and Emily. While Lorelai never actually made it to the trail, the heartwarming story she conveys to Emily over the phone made at least half of the show's most devoted fans cry, including me. The closure that it gave Emily was beautiful to see and gave Lorelai peace of mind as well. When Lorelai returns home, the moment with Luke had, I'm sure, everyone on edge. They FINALLY make the decision to get married, and it is clear that this time it will stick.
The portrayal of each person's career was interesting, most especially with Rory. In the original episodes, Rory is displayed as invincible and at the absolute top of her field. It is a change to see that she has suffered some setbacks along with her successes (Hello, New Yorker piece). She is struggling to find her niche, and the colorful characters of Naomi Shropshire and Sandee make it all the more memorable. The unexpected argument between Rory and Lorelai over a possible book idea strengthened their relationship, but not before weakening it first. Lorelai was her usual stubborn self, not wanting to compromise at all on her opinion, but as any loving mother does, realizes how important it is to Rory, and how she needs to give her daughter the opportunity to try. The scene that gives this book closure was one of the best in the entire revival.
An essential part of the original show was the entertaining characters, and they were even more entertaining in the second installment. Paris Geller, forever the overachiever, is, predictably, super successful. The return to Chilton allows her to be just as intense as she was when she was a student there. I have to say, if we had to pick anyone to kick a bathroom door shut out of rage, it would be Paris. Her impending divorce from Doyle was a little disappointing, but they were both just too successful in completely different worlds and could no longer be together. Michel, my favorite grumpy character on the show, seemed much happier, and I appreciated the fact that he had his own storyline within the revival. Lorelai's inn would not be the way it is without him, and it was a relief that she found a way to keep him there. Rory's best friend, Lane, had a life that could be expected from the end of the original episodes, and her twins only got cuter with age. I was a little bit disappointed that she didn't get more moments with Rory, as in the earlier seasons but was still happy to see her. Finally, the fact that we met Mr. Kim after so many years of so many questions was easily one of the best parts of all four episodes.
In true Stars Hollow fashion, Taylor absolutely had to have a big project to show off. It was in even more in line with the town when Lorelai was the only one who noticed that the whole thing was a complete disaster. The musical's leads, Sutton Foster and Christian Borle, are wonderful performers. I have had the pleasure of seeing both of them live, and they can do so much more than the Stars Hollow: The Musical lunacy. Sutton Foster was one of several actors appearing on the revival after being on Amy Sherman-Palladino's other show, Bunheads. Kelly Bishop, Liza Weil, Sean Gunn, Rose Abdoo, and Julia Goldani-Telles were all a part of the show. And, of course, it was fun to have Carole King (Sophie), the writer and performer of the original theme song, on the show to add her legendary music. Taylor may have objected, but she still made her voice forever known with "Where You Lead."
The conclusion of the revival had some predictable details, but also some more surprising endings. Emily, the Gilmore matriarch, was easily the Gilmore girl that changed the most throughout the revival. However, it is worth noting that she had the life-altering event of losing her husband to inspire such change. She managed to let go of almost all of her material possessions, despite her sudden purge in the beginning of the revival. In the end of the episodes, she had the courage to let go of the security of her Daughters of the American Revolution meetings. While it seemed that she was unwavering in her opinions, I think that she was using it to mask her insecurities, and breaking free from society's expectations gave her the chance to become significantly more self-confident. Taking a step as big as selling her house also gave her a fresh start, something I think she sorely needed. Emily became more compassionate, as shown through her inheritance of Berta and her family. Her newfound job at the whaling museum gives her a new interest she didn't even know she had, and her passion for the things she loves lends itself to such a job.
Lorelai, unsurprisingly, finally got her happy ending with her romantic relationship, but also repaired many other relationships during the revival. At the conclusion of the revival, she arguably has the best relationship with her mother that she has ever had. She is able to keep her favorite employee, Michel, from leaving, and even strengthens their relationship. After a "hike" and a small peak at the Pacific Crest Trail, she is able to realize that she needs to marry Luke, a fact that fans have known since the Season Four finale. Her best friend Sookie is able to come back for the wedding, and Melissa McCarthy does an effortless job of reprising her role. Eloping before the actual wedding still shows the rebellious side of Lorelai, but still extends love to the rest of her friends and family by keeping the intended plans in place. The happy ending is everything any fan could ever hope for, and Sam Phillips' "Reflecting Light" made it even more special.
Rory Gilmore had the most shocking ending of all of the Gilmore girls, all in the final seconds of the production. It wasn't all that surprising that by the end of the revival, she had found her voice and was able to write the first chapters of her book while honoring her grandfather. She makes peace with her father is some way, after asking him the hard questions about his parenting choices. The return to Stars Hollow was much needed,\ and allowed her to refocus. The shocking part of Rory's ending is in the last words of the series, letting her mother know that she will soon be adding a baby to the Gilmore clan. This was enough for fans to need a second revival just to answer questions from the first revival. Unfortunately, because that's how Amy Sherman-Palladino wanted to end it in the first place, no one is sure if she even wants to do more episodes. Those four words have sparked debate all over the internet, and it seems as if some people feel that they got no closure at all. Gilmore Girls fans are at the mercy of Amy Sherman-Palladino once again, as they pray for just a little bit more of their favorite Connecticut small town.
Picture Credit: http://www.imdb.com/title/tt5435008/