On November 3, 2023, Hampton Lane was aglow with the excitement of the class of 2025 and the shine of new rings. This year's ring theme, the "Time of Our Lives" had finally arrived for the juniors. All 159 of us were ready to replace our purple and blue ring warmers with the iconic ring of onyx and gold.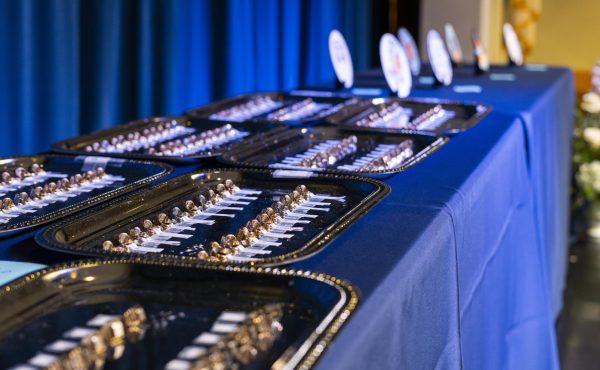 At NDP, our rings symbolize the sisterhood that connects us to the amazing family of alumnae who have come before us. Sister Patrica reminds us that every time we catch a glance of our rings, we see more than a piece of jewelry – we see a sisterhood that lasts a lifetime.
The morning began with a beautiful liturgy led by Rev. Brendan Fitzgerald, assisted by our wonderful ring liturgy committee and NDP faculty. The liturgy was opened with a compelling call to worship that highlighted the sense of family and connection we share with our sisters of the class of 2025. In this call to worship, the overwhelming love and care our class has for each other was highlighted. We can say without a doubt that this liturgy was filled with enthusiasm and exhilaration – even leading Rev. Fitzgerlad to delight in our unparalleled enthusiasm during the liturgy band's rendition of "All the People said Amen!" The liturgy culminated with the blessing of our rings by Sister Patricia and Rev. Fitzgerald. As we watched the blessing of our rings, the atmosphere was flooded with excitement and anticipation to receive our rings that represent so much more than a piece of jewelry.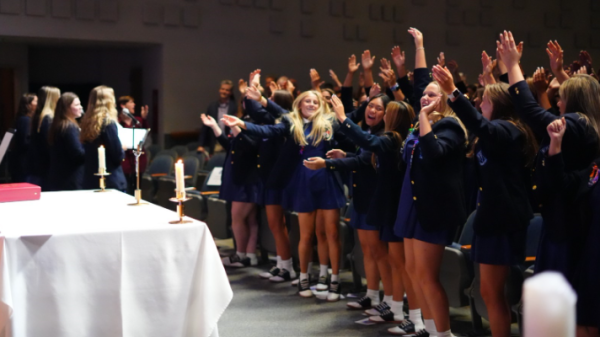 When it came time for the ring ceremony, our families, friends, and the rest of the NDP community gathered to celebrate our momentous transition into upperclasswomen. With all eyes on us, each one of our sisters received their ring. Following the distribution of rings, Sister Patricia shared her congratulatory remarks on this major milestone for our sisters of purple and blue. These eloquent words echoed through the auditorium, marking our official entrance into being upperclasswomen, as well as our entrance into the sisterhood of this 150-year-old tradition. Our class president, Kathleen Kane, gave an extraordinary speech reminiscing upon our moments as a class and the connection that our class shares. Her speech culminated with a call to the moment we had all eagerly awaited – the moment that we place the rings of onyx and gold onto our fingers. This moment was unlike any other, we placed our rings on our fingers and sang our class song. The entire experience was surreal as memories were being made every second. Placing the rings on our fingers, rushing out to the gateway to meet our friends and families, going to hair appointments, making it to lunch reservations, and taking tons of pictures all made up this exhilarating occasion.
In a blink of an eye, our entire class was gathered at Eagle's Nest Country Club for the whole-grade pre-party. We saw everyone's beautiful long dresses, gorgeous hair and nails, and the shimmer of our new class rings. Soon after, our entire class and their dates returned to campus for an unforgettable ring dance as we celebrated the "Time of Our Lives." It was the perfect closing to such a memorable day.
Speaking on behalf of the amazing class of 2025, we can all agree that we cannot even begin to fully express how special and surreal this day was. From our first steps in our saddles, our class has bonded to be true sisters of lavender and turquoise, with nothing to keep up apart. We will definitely have to get used to seeing rings on the fingers of our fellow junior sisters, but we could not be happier to take on the role of upperclasswomen. The moment we placed our rings on our fingers, we felt an instant connection to not only our sisters of the class of 2025, but to the family of alumnae worldwide that share this tangible expression of sisterhood. Our rings will mold to perfectly fit our fingers just as how NDP has molded us to become women that will transform the world. We know that even after we walk out the gateway next year, that this sisterhood of love and family will follow us for a lifetime.