Tips for Semester Two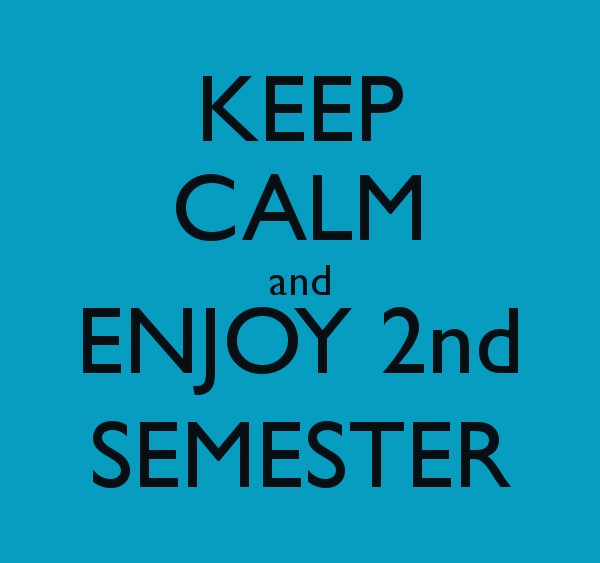 I am definitely not the first to say it, but congratulations on finishing the midterm exams! I'm sure they were stressful and everyone is glad to be done with them, but now we are in semester two. Report cards came out last week; this time they had quarter one, quarter two, semester one, and all midterm exam grades. Depending on how you did, you may be happy or a little upset with your grades. Maybe that English grade was not quite what you wanted or maybe that math grade could have just been a little higher. Either way, below are some great tips on what to do to ensure that those grades are exactly what you want them to be.
1. Use a Planner
Whether you use a paper one or a special app on your computer, use an agenda to mark down all the homework, texts, quizzes, projects, and other important work that you have to do for school. I also suggest marking down any events or special activities that you are doing that week so that you can best plan out how to use your time. On Sunday night, or even Monday morning during advisory, check your Assignment Center and your class's Bulletin Boards to see the assignments that teachers have posted already. Mark them down in your agenda ahead of time, so that you are already planning what you are going to work on and when. This way, you are building a study schedule and marking down your homework.
2. Rethink Where You Study
While doing homework and studying in a bed—or any other super comfy spot—is awesome, it is not the best place to work. Occasionally, after a long day at school, you may get tired and fall asleep while you are working. If this happens to you, or you feel like you become too distracted while sitting in your comfortable spot, try moving to another space. For instance, if you have a desk, try using that. If you feel like you get too distracted there, move down into the kitchen or another less private area of your home, where your family members can hold you accountable for starting and finishing your work.
3. Use Office Hours
Use teachers' office hours. They are so helpful. Teachers want you to come and ask them questions, and they only want to help. If you go to office hours, they will gladly answer your questions and help you to understand the work that you are having a hard time on. So, next time you are struggling in a particular class, if you have a free block, don't sit there and struggle alone. Email your teacher and ask if you can meet during office hours. They'd be happy to help.
4. Create New Note-Taking Habits
Sometimes it is not that we do not use the office hours, or that the spot we study in offers too many distractions, or even that we do not write down a plan to help us study, but it may be because our note-taking habits are not the best. If, after midterms, you notice that your notes were not too helpful when it came to studying, it is time to rethink the note-taking situation. Maybe this semester, try sharing a OneNote with your friends in that class, and together take notes down. Maybe try flashcards or Quizlets. There are many different ways to study. It's just a matter of finding one that works for you.
5. Study with Friends
Try studying with your friends that are in that class. Meet up during a free block, over the weekend, or before and after classes to quiz one another and run through the material. This is both fun—because you are hanging out with your friends—and helpful because you are studying. It's a great way to make studying fun.
Overall, these are just some tips to consider as we move into this next semester. The point is to study smarter, not harder, so that when final exams roll around, you are not stressed about how little you studied or how much you may have over-studied. Good luck in semester two!