2 Fun Recipes to Try for Christmas
Baking really gets you in the mood for the holidays, especially Christmas. There is nothing like blasting Christmas music, putting on pajamas, and making Christmas cookies with your family and friends. Baking is definitely good for the soul and is a super fun activity that always leaves you with yummy treats. Here are a few of my favorite Christmas recipes.
For the first recipe, I decided to choose something that wasn't traditionally Christmas-themed but will definitely get in you in the cozy fall and winter mood. I simply couldn't resist these salted maple butter biscuits because they were too cute!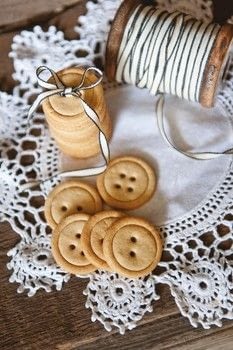 What you will need:
Ingredients
30 grams (1 ounce) maple syrup
20 grams (3/4 ounce) brown sugar
15 milliliters (1/2 fluid ounce) milk
120 grams (4 ½ ounces) plain flour
30 grams (1 ounce) unsalted butter
A pinch of sea salt
Equipment
Round cutter
Piping nozzle
Instructions:
Mix the butter, sea salt, and brown sugar until well combined. Add the maple syrup and mix.
Add the milk and mix again. Fold in the plain flour.
Once all the ingredients are combined, wrap the dough in cling film and rest in the fridge for 30 minutes.
Roll out the dough to four mm (3/16") thick, using marzipan spacers as a guide if necessary. Chill the sheet of biscuit dough in the fridge for one hour until firm.
Remove the dough from the fridge and cut out 30 circles using a four cm (1¾") round cutter, then emboss a circle just inside the outer edge with a 2.5 cm (1") cutter. Make two or four tiny holes in the center of each biscuit using a small piping nozzle.
Bake the biscuits at 170°C/340°F/gas mark 3½ for 16–20 minutes.
The next recipe is a savory Christmas tree pull-apart bread. Recently, everyone has been so obsessed with garlic cheesy bread, so this only felt fitting.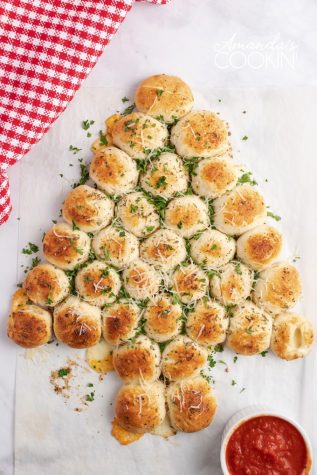 What you will need:
Ingredients
4 cheese string mozzarella sticks
4 Colby-Monterey Jack cheese sticks
16 ounce can large biscuits
2 tablespoons butter
½ teaspoon garlic powder
½ teaspoon Italian seasoning
2 tablespoons chopped fresh parsley
3 tablespoons finely grated parmesan
1 cup pizza sauce
Equipment
Baking sheets
Silicone baking mat
Pastry brush
Mixing bowls
Instructions:
Heat the oven to 375°F. Line a baking sheet with parchment paper or a silicone baking mat.
Cut each cheese stick into four pieces to make 32 pieces.
Separate dough into eight biscuits. Cut each biscuit into fourths for a total of 32 biscuit pieces. Roll each piece into a ball.
Push a piece of cheese into a dough ball, pinch the seams together and then roll into a ball again.
Place biscuit balls seam side down and next to each other to form a tree shape on the cookie sheet.
Melt butter in the microwave then stir in the garlic powder and Italian seasoning. Brush butter mixture over the biscuit balls.
Bake 15-17 minutes or until golden brown. You can turn the oven to broil and brown the tops for a minute or so if you like.
Sprinkle the top of the "tree" with fresh parsley and parmesan cheese.
Warm the pizza sauce in the microwave and serve alongside Christmas tree pull-apart bread.
Hopefully, these two recipes add some fun to your Christmas break and leave you with some yummy treats to snack on!