CW Project Greenway 2021
On Wednesday, April 28, NDP students and faculty gathered in advisory to watch the annual Claire Wagonhurst Project Greenway Show. Despite being done virtually this year, the show was, as always, a great success. Not only did we all get to see some amazing eco-friendly dresses created and modeled by our fellow classmates, but we also got to honor Claire Wagonhurst's legacy.
Because of the pandemic, the designers this year were faced with a variety of new challenges such as not being able to work with their other teammates in person and having to complete check-ins virtually. However, each team clearly stepped up to the challenge. After months of hard work, their dresses were complete, and the show was ready to be filmed and put together.
On that Wednesday morning in advisory, the virtual show began. First, each model showed off their dress with a runway-style walk as fun, pop music played in the background. Then we saw a close up and various pictures of each dress as the senior, junior, sophomore, and freshmen design teams each explained their process. Finally, the show closed with messages from Ms. Walker and Ms. Wagonhurst, both of whom offered their congratulations and thanks to the girls on amazing job with their dresses and their honoring of Clare Wagonhurst's memory.
Later that day, the student body got a chance to vote on their favorite designs, and soon afterwards, the winners were announced. Below you can find the 2021 CW Project Greenway winners:
Most Creative Use of Materials: "The Blue Dress 2.0"
Designed by Cate B., Meg B., Charlotte S., and Maeve M.
Modeled by Cate B.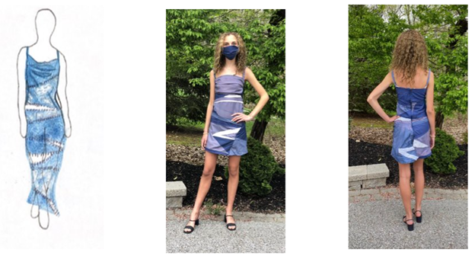 Most Green Design: "FDA Approved"
Designed by Annie R., Abby D., and Becca M.
Modeled by Abby D.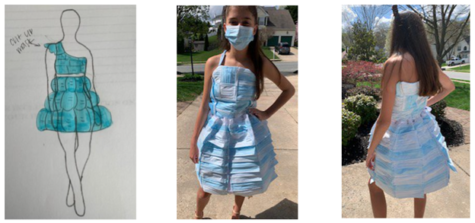 Most Wearable Design: "Untitled"
Designed by Caroline E.
Modeled by Caroline E.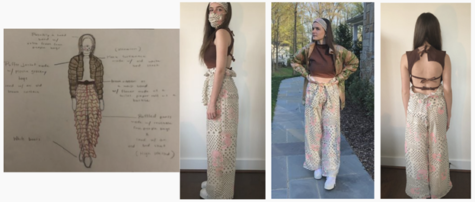 Best Team Design: "Vintage Treasures"
Designed by Claire J. and Anna L.
Modeled by Anna L.

Best Individual Design: "Untitled"
Designed by Caroline E.
Modeled by Caroline E.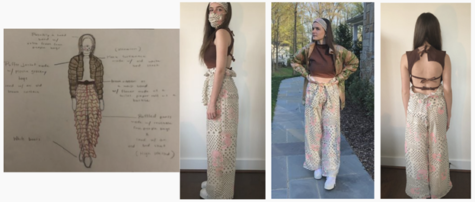 Congratulations to the winners and to all the students for putting on a great show and making CW Project Greenway 2021 so amazing!