Christmas Decorating!
As December 25 gets even closer, you may be looking for a few more ways to get into the holiday spirit. What better way than to festively renovate your room! Here are a couple of Christmas decorations to add some celebratory cheer to your home!
There are so many options for your holiday décor, all the way from winter wonderland to an all-out, Christmas–themed room full of hues of green and red. One way to show off your joy for this special time of year is with a fun wreath. There are many dazzling options to place on your door including an icy silver wreath, a green wreath with sprigs of holly, and even a simple garland full of green leaves. At this time of year, so many stores house these adorable decorations for a great price too, including Walmart, Joann Fabrics, and even Amazon! However, if you want to do an entertaining DIY, you could even make your own personal wreath! Just grab a circular wire frame; some evergreen boughs; and red, artificial citrus fruits. On the other hand, if you desire a truly individual wreath, feel free to twist the wire into your initial, a word, or even a Christmas tree! This will definitely boost the Christmas quality of your room!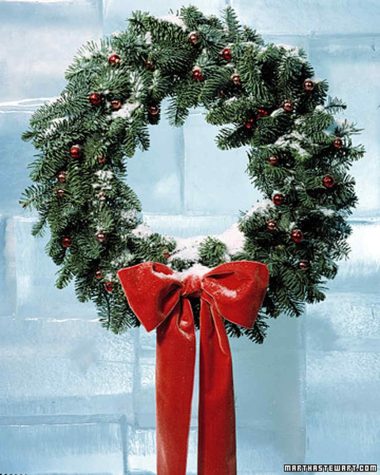 For an additional holiday touch, incorporate a string of wintry lights throughout your room. So many stores market some beautifully illuminated lights in a wide range of colors and sizes. The assortment is not limited to just white lights, but also rainbow lights, alternating green and red bulbs, and even flickering or color-changing designs! There are even light strands available with attached clips for pictures, which can also integrate some of your favorite holiday memories from years past. Lights can embellish up your room, not just in December, but throughout the rest of the months, too!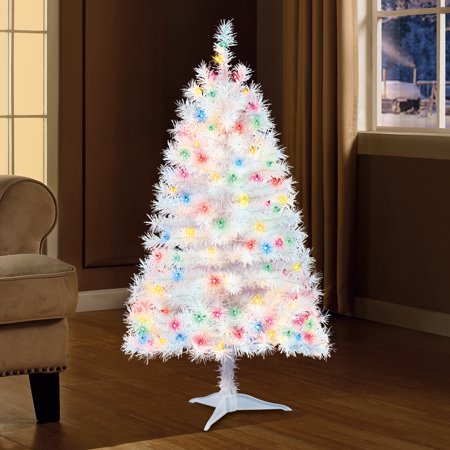 Of course, a Christmas-themed room would not be complete without a festive Christmas tree. Add a tree in any color to perfectly coordinate with the rest of your room. Trees can be purchased in any color of the rainbow, and are even produced with more than one color! Ornaments are also a fantastic aspect of every Christmas tree, and can create a decoration that is exclusive to your room! This holiday season, you can make ornaments with your friends, which is a great way to not only add some holiday flare to your house, but also to enjoy the company with loved ones during this season of giving. There is a stunning tree out there for everyone this Christmastime!
No need to fret if you are in a rut with Christmas decorating! Now, with these sensational December designs in mind, your room will be the most festive of them all!
Photo Sources:
https://www.walmart.com/ip/Holiday-Time-4ft-Pre-Lit-Indiana-Spruce-Artificial-Christmas-Tree-with-105-Multicolored-Lights-White/457474848?wmlspartner=wlpa&selectedSellerId=0&wl13=2045&adid=22222222227252139625&wl0=&wl1=s&wl2=c&wl3=296375716074&wl4=pla-526471482209&wl5=9007934&wl6=&wl7=&wl8=&wl9=pla&wl10=8175035&wl11=local&wl12=457474848&wl13=2045&veh=sem&gclid=Cj0KCQiA3b3gBRDAARIsAL6D-N93daMux5CpaMCQPcXZ7az6xIgFYFFVEj5zbQPh3-FFfbID8RepVSEaAprKEALw_wcB
https://assets.marthastewart.com/styles/wmax-520-highdpi/d18/a99033_1201_wreath/a99033_1201_wreath_xl.jpg?itok=yaFUzh1J