Ms. Kotarides
New Upper Level Dean of Students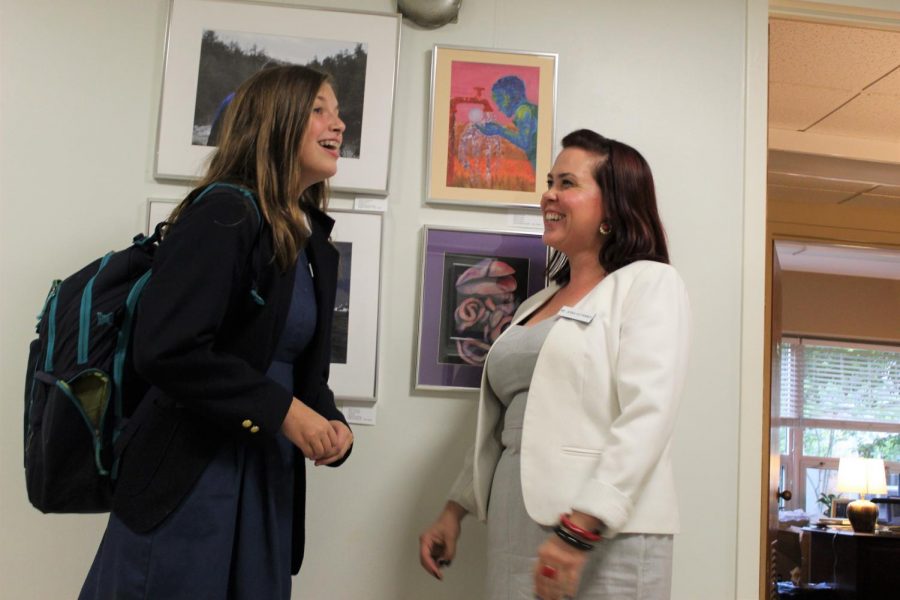 Derin Aderoju, Staff Writer
September 16, 2018
"She is an excellent addition to the NDP administration. She seems very dedicated to guiding students in their academic and personal development and I know she has previous experience working at girls' school so that will certainly come in handy! It also helps that she is kind, friendly, and eager to dive right into her new role. I'm really looking forward to working with her more this year." This is Ms. Amy Cavanaugh's take on her new colleague, and more importantly, friend, Ms. Jenna Kotarides, our new Upper Level Dean of Students and a spectacular addition to the Notre Dame Prep community.
Summer has come to an end and Ms. Kotarides is certainly ready to take up her position as Upper Level Dean of Students. When asked what her aspirations for Notre Dame Preparatory School were, she responded, "My main aspiration is to try and create or enhance the way students use their voice in their school, having them be active participants in shaping the community and working on leadership development."
Although she didn't always feel a call to education, Ms. Kotarides has had a career in this field for 15 years and feels considerably passionate about it. Previously, our Ms. Kotarides wanted to be a politician. Her journey to a career path in education was nothing if not unexpected. She relayed the story to me as if it was just yesterday. She worked in Washington, D.C. as an assistant to a lobbyist, and when he went to Romania and gave her the month off without pay, she signed up to substitute teach. She told me, "I signed up to substitute teach at Kenwood High and was sad to leave. I decided that I wanted to work in a school." An unexpected twist of fate revealed her calling to the world of education.
Our Dean of Students is particularly zealous about our school community.  She states, "During my interview, they were just really interested in what I had to say, I just wanted this job more than anything, there's a lot of happiness about this place, there was a lot of pride here and people were happy. They really care about their school, and they wanted to make it the very best possible." When she first applied for her job here, she didn't know much about our school, as people had referred her here because of Sister Karen.
While Ms. Kotarides didn't know a myriad of information about NDP, she was familiar with the area since she attended Mercy High School less than 15 minutes away. Aside from Mercy High, Ms. Jenna Kotarides attended Towson University for college and received her Master's Degree at Loyola University. Mercy was one of the 14 schools Ms. Kotarides attended between kindergarten and high school. As the only child in a military family, her father's position in the Air Force played a substantial role in her transitions from school to school and state to state. Born in California, Ms. Kotarides has also lived in Iowa and Colorado. Travelling has become second nature to Ms. Kotarides and she treasures it dearly.
When she's not running the Upper Level, Ms. Kotarides can be found hiking, listening to live music, or watching plays. An extremely avid hiker, she recently went on a 20-mile day hike on the Appalachian trail. When it comes to theatre and plays, Ms. Kotarides can be considered a connoisseur in her own right.  Of all the plays she's seen, she informed me that "Kinky Boots was a lot of fun and The Death of Walt Disney is one of my favorites."
If she's not working, hiking, or attending plays, she's having fun with her family. This includes her orange and white tabby cat, Stacy, and her one-year old German short-haired Pointer/American Bulldog mix, Archie. Archie was named by her 13-year-old daughter, Cicely, for the fun-loving, red-head Archie Andrews of the Archie Comics and Riverdale.  Ms. Kotarides is just as much of a mom as she is a Dean of Students. She really enjoys spending time with her daughter and likes to do so often. She affirms this statement by telling me, "My daughter and I really like to travel and explore new places—sometimes close to home and sometimes far away. We most recently went to Portugal. But on a regular day, we like to cook, go get our nails done, and go to the movies."
While she's obviously done a lot of family-involved activities this summer, Ms. Kotarides has definitely been anticipating the start of school and claims to be "more excited than nervous." She is ready to meet new people and socialize now that school's begun, so be sure to drop by her office and say hi!