Suits, Bills, and Yag Swag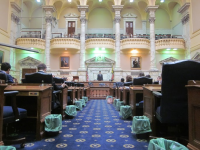 In Annapolis last weekend, the Notre Dame Prep Delegation triumphed in the courts, press, senate, house, and lobbying firms of Maryland Youth and Government. At this event, senators and delegates debated mock legislation and authored bills proposing potential improvements to Maryland's government. Meanwhile, lobbyists gave speeches designed to kill bills, student lawyers and judges engaged in mock trials, and press members covered the entire program by producing several editions of an online newspaper.
Several NDP girls, including Ella Ogundare, Grace Chubb, Hannah Schiavone, Keely Heise, Grace Sullivan, Miya Dubler, Erin Dodson, and Gateway's own Meg Zink, traveled to the capitol two days early in order to participate in officer training. At this event, the girls built leadership skills, prepared for the conference, and made friends with students from all across the state. When the trip came to its conclusion at closing ceremonies, still more NDP girls were recognized. Hannah Schiavone was honored with the award for best delegate, and Ally Ewers was named as the 2017 Chief Justice. Additionally, Grace Chubb was elected Lieutenant Governor, while Grace Sullivan was elected Youth Governor of Maryland.
For Keely Heise, Chair of Transportation, this year marked her last at Youth and Government. She explained, "This final year of Youth and Government was very bittersweet for me. While I was overjoyed to be back with some of the most passionate and intelligent students in Maryland, I was simultaneously dreading the moment in which I'd have to say my final goodbye." In describing the effect Youth and Government has had on her, Keely noted, "In four short years, I have become a confident leader, and I have made lifelong friendships."
In contrast, Maura Schlee's journey with Youth and Government is only just beginning. She stated, "Annapolis was one of the best experiences of my life. When debating bills and participating in everything at the State House, I felt like I had become a real delegate, and I, therefore, took every bill seriously. Each person in Youth and Government made the experience unforgettable, and it makes me sad to say good bye."
Maura further described the ways in which the hard work of being a delegate was balanced with the fun of exploring Annapolis. "I especially loved exploring Main Street," she explained. "I would advise anyone who has any interest in politics to join Youth and Government because they will never regret it. I can't wait to go back next year, and I wish I could stay in Annapolis forever."