Backstage with COMETRY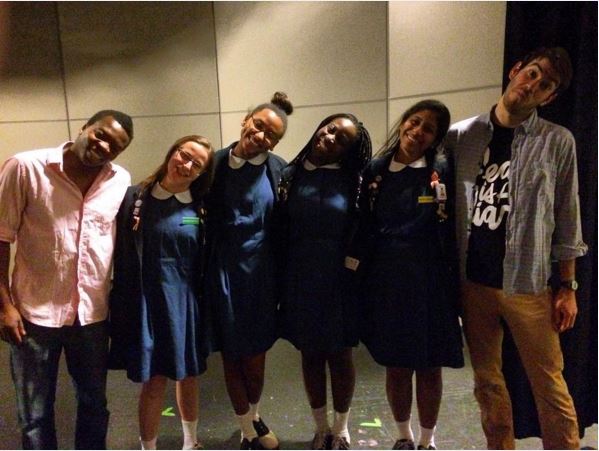 On Wednesday, March 9th, the COMETRY crew visited Notre Dame Preparatory School. They shared with us their four integral life values with the acronym GRAV. The 'G' stands for growth, which encourages students to venture outside of their comfort zones. The 'R' stands for research in order to encourage efforts to get to know each other. The 'A' is approachability, meaning that students should try to be approachable and open to allowing others to learn about them. Last but not least, the 'V' is for validation which encourages students to lift up their fellow classmates.
We reached out to Iggy and Esteban of COMETRY to get a more behind-the-scenes look at their inspirational program.
Q: How did you guys meet // How did you guys come up with the idea of "COMETRY"?
Iggy: Esteban and I met on-line! Haha, yes a dating site…nooooo not true, but it can be! I (Iggy) was looking for a comedian to help add to the COMETRY team back in January of 2015. I reached out to local artists, organizations, and our agent, Wally's World. Wally then suggested Esteban as a potential comedian for COMETRY. And after doing some research on Esteban (background checks, dental records, and any preexisting medical conditions), come to find out he has a good heart, and can be funny at times. I invited Esteban to visit with me in July of 2015, and we hung out in Austin for a nine days learning more about each other and what COMETRY will look like this coming school year. Come August, Esteban and I hit the road!
Q: How did you get into stand-up/slam poetry?
I: I found slam poetry my Junior year of college. A friend of mine asked to attend an open mic for poetry, and at the time I had no idea what slam poetry or performance poetry was. So I went and saw someone perform with such highly contagious and engaging energy I thought to myself, "I want to do that and can you teach me how?" I attended every two weeks for the next three months, then was asked to join the poetry team (which I never knew existed), quickly became highly active and fell in love with the art of dancing with the English language.
Esteban: I actually first did stand-up in high school! I did it for a talent show and had a great time but was too nervous to get back on stage for a few years. I did it again in college and won a competition and a few doors were opened. It was something I always wanted to do. I was the kid who stayed up late to watch SNL and loved all sorts of comedy. It wasn't until recently that I discovered I could actually do this for a living. Even now, I feel so so so lucky to do this for a living
Q: What are the best ways to expand your experience in both slam and comedy as a teenager?
I: In slam poetry the best ways to expand your experience would be attending events. Some of the greats are Chicago Young Authors, Poetry Slam Inc, COLLEGE UNIONS POETRY SLAM INVITATION (CUPSI), Brave New Voices, Button Poetry, and many more. I would YouTube as much as you can when it comes to performance poetry. Read and watch as much as you can, find your voice/style, and go (get on stage, keep pushing that pen)!
E: I would say the biggest advice is just to do it. The best way to get better at performing is simply by performing. You can think about it, and you can write, and you can imagine what it would be like, but nothing is like actually performing.
Q: Where does your program take place? How far do you travel to deliver your message?
I: Our program takes place in any space it is welcomed. We find ourselves in just about every state, in high schools, colleges and universities, festivals, local and private events, and in the hearts of anyone willing to listen.
Q: Are you planning on expanding "COMETRY" at all?
I: COMETRY is currently in the process of expanding. Esteban came on in July as the third member. Andy Karol (this great poet from Chicago) came on in October of 2015 and just had her first tour this past February. We are looking for one or two more comedians to ultimately make up a core team of four and having two others as on-call or stand-by performers to fill in when needed.
Q: What is your normal, target age group?
I: Our program is targeted for ages 13 years and up. We have done some younger groups; we just find our message resonates more with people who have had a chance to experience life as an individual.
Q: How does sharing your stories impact your lives?
I: We find our stories opening minds and shifting people's current paradigms. Our program taps into an arsenal of emotions, upon exiting one usually feels inclined or inspired to reevaluate their lives. We get emails from students and teachers who are battling with relationships, family issues, domestic violence, suicide thoughts or attempts, depression, anxiety, etc…we get it all. And what we find is that just lending that individual an ear or showing them that it will be okay and/or helping them shift the way he/she sees situations, goes a long way, and it changes lives. By far one of the most rewarding things about COMETRY!
I: COMETRY would love to continue to be a part of your lives, and thus do stay in touch. We are in just about every social arena you can imagine. We grow by being a part of student bodies as yourself. If you enjoyed any bit of it, do share your experience with others; we'd love to meet your friends at neighboring schools and come back your way soon.