Seniors Take Manhattan
Hang on for a minute...we're trying to find some more stories you might like.
After months and months of hard work, patience, and collaboration by a committee of faculty members headed by Señora Myers, the class of 2016 was finally ready to take on Manhattan on the annual, long-awaited senior trip to New York City! A tradition that is rooted in the celebration and remembrance of Sister Helen Marie, a native New Yorker, the senior class stays in the Waldorf Astoria every year, which is located on Park Avenue. While our chaperones definitely ensured our safety throughout the trip, we also had the freedom to explore the island of Manhattan in our free time. Groups of friends traveled to SoHo, Central Park, the MET, vintage bookstores, Dylan's Candy Bar, and everywhere else you can imagine.
It was required that each student take one tour, and the two most popular ones seemed to be the Top of the Rock and the NBC tour. Senior Emma Blanchard toured the Top of the Rockefeller Center and said, "I was able to see the beauty of the city without the chaos of the people." As a whole, we saw two shows together on Broadway: Aladdin and Something Rotten, both of which were phenomenal. Senior Erin Shoul said, "Both shows had an electric energy where you couldn't help but smile and want to sing along.  While Aladdin was spectacular, I preferred Something Rotten and its star filled cast, for its music and hilarious antics." Following the shows, the class split into two groups and alternated which restaurant we went to each night between Sardi's and Un Deux Trois. The food was excellent at both places and was the perfect way to end a long and eventful day in the city.
The three days flew by in the blink of an eye, and everyone was sad to see the trip come to an end, but the memories made in the city will last a lifetime. Senior Emily Harper said, "New York was an amazing experience. I loved bonding with my fellow NDP sisters and traveling through such an amazing city. I wouldn't have wanted to spend it with anyone else." The senior trip to New York is something that NDP girls talk about beginning freshman year, and it is hard to believe that our four years here have gone by so quickly, but there is no doubt that next year's trip will be just as wonderful. Our trip was even welcomed with a little bit of snow. After all, who doesn't love winter in Manhattan?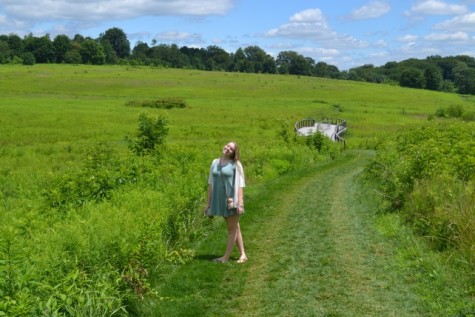 Haley Dick, Editor-in-Chief
Hi! My name is Haley Dick, and I am a member of the class of 2016. I am editor-in-chief of the NDP Gateway, and this is my third year of involvement. My...