Exam Guide: Part I: What to Do When You've Procrastinated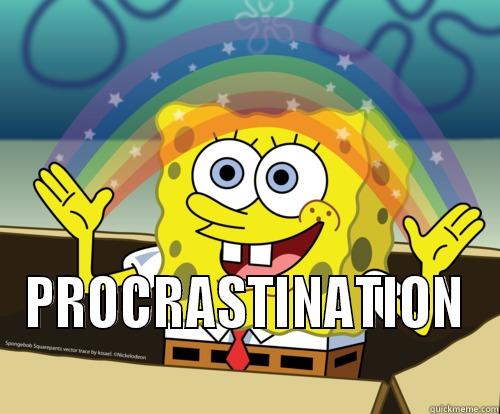 In general, adults like to instill in us a mindset of how to do things right; "start your project early, do a little bit of studying each night, get a good night's sleep, etc." Since we're already well into exam season, I'm sure most of you have heard these sentiments recently, and for those of you who followed their advice, I applaud you. It really is good advice, and believe me, it's much better to do things this way.
But what happens when you didn't do the right thing, and you're currently wound up in a tight ball of stress and uncertainty because Plan A, the study in advance, a little bit each night plan, didn't happen? That's what this two part article is about: the plan B, or what to do when the unexpected, and seemingly worst exam situation arises. As a disclaimer, I must say that I am in no way recommending you do any of these things. But if you find yourself in a pickle this exam season and don't know what to do, well, I think I might just be able to help you. This is Part I: What to Do When You've Procrastinated.
STEP 1: NO ESCAPE FROM REALITY:
You need a reality check, pronto. The longer you pretend everything's fine, and you're right on track, the worse it's going to get. Be honest with yourself: you waited until the last minute to study, and that means you're going to have to work much harder than everyone else to get the results you want.
STEP 2: SUGAR FOR THE SALT IN YOUR WOUND:
In order to balance out the panic you're probably in after completing step 1, you need some positivity, so remind yourself of these two things:
Even if you don't believe me or can't think of any right now, you have done amazing things before, things that you didn't think were possible. Succeeding is entirely within your reach. I mean come on, stranger things have happened than a girl who procrastinated getting good grades on her exams. In fact, that's a pretty normal occurrence from what I've seen.
You are important, and that importance is NOT defined by these exam grades. You deserve the best and should always work hard and strive to achieve it; however, sometimes you fail, no matter how hard you try. And while that shouldn't keep you from trying, it should help you put things in perspective. A bad grade may seem like the catalyst that implodes your academic future, but it's not, I promise.
STEP 3: COLORING BOOKS
When you're a kid, you're highly idealistic and creative, which is a beautiful way to be; however, now is not the time for that. Unlike in coloring, you need to stay focused and follow the outlines you are given. Make a guide of how and what you need to study, then stick to it.
STEP 4: ALL WORK AND NO PLAY MAKES JACK A DULL, DULL BOY
You won't focus if you study all day and all night. Tell yourself that you will only study between certain hours and be completely focused to your studying during those times. When you're off the clock, make sure you allow yourself time to relax. During breaks between studying, be careful how you choose to spend your time. Watching Netflix, scrolling through your Twitter timeline, and watching YouTube videos are deceptively innocent activities that can suck you in for hours. Pick something enjoyable but still slightly active, to relax and re-energize your brain. Try taking a walk, go on a bike ride, or take a short car trip. Finally, try as hard as you can to get at least eight hours of sleep. Your brain will function a lot better if you've slept well. Remember, it's not about how long, but rather how effectively you study.
So channel your fiercest spirit animal and get to work. You can and will dominate these exams. To get you inspired, here are some wise words from none other than Leslie Knope.