Upcoming Events: April Library Week and Author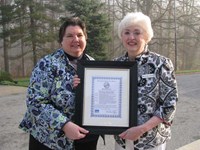 There are two huge events happening at NDP! First, we have all been waiting for the week all about books, the library, reading and the BIG PENCIL! Yes, you are right, I am talking about Library Week! The Ellen Norton Cullen Library Week is Monday April 7th to Friday April 11th. So let's celebrate reading and the library! My goal for you is to reread your favorite book so you can tell all the librarians about it! Or start a new book! Library Week is dedicated to reading, so enjoy the week at the library! And who could forget the prizes you could win at the end of the week? I think it is key that during Library Week we all make sure to thank all the librarians who make our days at the library fun and educational. Our librarians are always there if we need help! Last year the library week contest was about your favorite book! Remember if you vote, you could be drawn to get a prize! This year will feature our favorite children's books! Mark your calendars because the countdown has started!
The other fun event is the week before when an author visits! The author this year is Eliot Schrefer. He just recently just wrote a book called Endangered. He graduated from Harvard. After he graduated, he spends his time writing in the day and SAT tutoring in the evening. His first novel, Glamorous Disasters was voted "Best of the Teen Age" by the New York Public Library. Endangered was his fifth and most recent book and voted NPR's "Best of 2012." Most of his books are about the relationship between humans and animals, most of the time primates. To find out more information visit his website at http://www.eliotschrefer.com/# . View his newest book, Threatened now on his website! Eliot comes Wednesday April 2nd! Get excited for the assembly!
Contest
*The Liberator written by William Lloyd Garrison, was an abolitionist paper written in 1831. The Liberator was written in Boston for a continuation of more than 30 years.