Get Ready for Gym Meet 2013!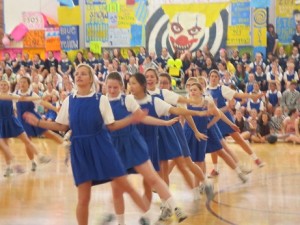 FBI, Survivor, Superheroes and a Circus: there are not many events that could bring all of these themes together-and pull it off. But Gym Meet never fails to bring four completely different themes together and make a great show out of it.
If you walk into NDP during late February, you will notice that something is different right away. There is a certain mood of excitement in the air, and as you walk through the busy hallways when classes are switching, you will most certainly hear conversations about last-minute changes in the dance routine or about the march formations. If you stay after school hours, don't be surprised if you see a group of girls run by wearing the famous blue tunics on the way to practice.  The lockers in the hallways are covered in posters of clowns, superheroes, life rafts and magnifying glasses, and the four sections in the new gym are filled with class-color streamers, balloons and posters.  This time of year, every girl in the school has one thing on her mind: Gym Meet.
First things first: what is Gym Meet? Gym Meet is a competition between the four classes (freshman, sophomore, junior, senior) that takes place in early March. There are four categories for the competition: march, song, dance and aerobics. Each class votes on a theme early in the school year to be the theme for Gym Meet. Around that time, we also pick a Gym Meet captain for our class. Then, girls are chosen for committees, and they start working on routines and formations and songs to make Gym Meet the best it can be.  Girls devote a lot of their time to Gym Meet. If a girl is on a committee, then she cannot do a winter sport. Even if a girl is not on a committee, she has to stay after school 3 days of the week for practice, starting 3 weeks before Gym Meet. There are also mandatory Saturday practices. No one really minds staying after for practice, and although there are probably many other places a girl would like to be on her Saturday other than the NDP gym, the feeling of pulling off a great routine and hearing the applaud of the crowd on Gym Meet night will be worth every minute of the time it took to prepare.