Winter Sports Update 2018-2019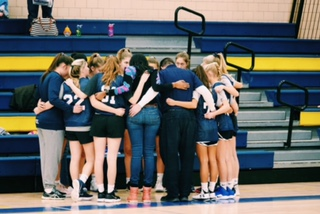 The winter sports season has begun here at NDP! Whether our girls are on the court, down at the field, or in the water, they're pumped up and ready to go for the gold.
This varsity basketball season has been exciting so far. The players come from all four classes and they won their first game against Bryn Mawr. The varsity girls are very excited for the rest of their season. They're hoping to improve as players, have fun, and get to know each other better. Ellie deFries '21, a center and forward on the team, says she's "really excited to play Maryvale in the second annual Xmas Classic," as well as the Alumni game and Senior night.
The JV basketball girls have been merciless on the court this year. So far, they have won both of their scrimmages and their first few games. As they work to improve their speed and shooting accuracy, the girls are having a great time and getting to know each other. Anna Seal '21, a forward and post on JV basketball, says she loves playing on NDP's team because "the team is really close, and we have a lot of fun together, but we are also pushing each other to become better players."  They are all very optimistic about this season and are excited to play more schools.
NDP's swim team won their first meet of the year against Catholic High and St. Paul's School for Girls and their second meet against St. Mary's High School. The team has worked through early mornings and late nights to get faster and stronger. Eileen Stephan '20 says everyone on the team is "really friendly" and they "work hard but have fun and build each other up." Stephan says the team operates so well together because of their support for each other. "We all have each other's back. People say swimming isn't a team sport, but I could not do it without my girls. They constantly support and challenge me." These girls are preparing for big things this season, including the McDonogh meet, National Catholics, and the IAAM championships. A strong work ethic is present in this team, and they're constantly pushing themselves.
The squash team has played three matches this year and won the match against Friends School. Despite the two losses, these girls are not discouraged! Elizabeth Bathon '21, a new member of the team this year, says "Every time I play, I see myself improving more and more." She, like everyone on the team, is excited to play (and hopefully win) more matches this year.
NDP's indoor track team has participated in a few meets so far and is constantly getting better. Jess Seymour, who is in events including running and hurdling, says that her favorite part of being on the team is "how much of a family it is," and that they "all support each other and cheer for each other all the time."
Indoor soccer has had three games so far and has won two of them. You can find these girls practicing after school in the New Gym or working out in the fitness center.
Down in the Middle Level, the basketball season is also kicking off. All three teams won their recent games against St. Paul's School for Girls. Paige Kawa, a forward on the A team, says she loves being a part of NDP basketball because of "the friendship and leadership that evolves throughout the season." She's looking forward to working together with and playing with the girls on the team, as well as getting to know the players on the B and C teams.
Outdoor soccer won their first game 2-0. Kate Donovan, a forward on the team, says playing on the winter soccer team "is very fun and a great way to get things off of your mind." As the season continues, the girls are working hard and improving as a team.
Make sure to come support our teams when you're free! You can see all of the teams' schedules here.