NDP's First Ultimate Frisbee Team
This year, NDP has inaugurated it's first-ever Ultimate Frisbee team! Currently, the team, named "Varsity" by the girls, has sixteen members. The girls are a good mix of all grades, excluding freshmen. I sat down with some of the athletes to talk about their season.
The "Varsity" Ultimate Frisbee team is led by Mr. Kahl, the AP Physics teacher here at NDP. The girls describe him as someone who pushes them to do their best and teaches them complex strategies to win. Many of the girls have never played the sport on a team before but became interested due to their desire for extra physical activity (and the fact that there were no try-outs!)
When I asked about any records on the team, many of the girls gave a laugh and said they "don't think [they]'ve broken any kinds of records." Some highlights, however, include getting to have social interaction with other grades and even people who don't go to their school. Oh, and the jerseys with their names!
As we were talking, the topic of injuries arose. Though there were no serious injuries, one team member got hit on the bridge of her nose with a Frisbee, effectively leaving a "blueberry-like" bruise for a few weeks. I asked about other challenges that come with being on the team, but the girls seemed very content. They only practice three days a week after school until 5, which they say is manageable with their other schoolwork. However, there were a few regrets about missing some after-school clubs in which they would otherwise be able to participate.
Even when not playing a game, the teammates are "supportive" and cheer on the girls currently on the field. One member praised her teammates as "very hard working and athletic," which she admires.
Next, I asked about a typical practice. A location will be emailed to the team earlier that day, to which they report at 3:20 pm. They'll do something different each time, and a normal practice usually lasts around two hours. Some commonalities I heard were endurance training, running drills, and throwing drills. Through these drills, one member said she was inspired to train harder and push her limits to get better.
One of the most important factors in the game is teamwork. The girls said that it's essential to have "good bonds" with each other and "know when to communicate."
So far, the team has a record of 1-4.
As the interview closed, the girls left me with the following sentiment: "Work Hard, Play Hard." Even though most of the girls didn't previously know each other, the sport and the hours that they've spent training have brought them together, as one family.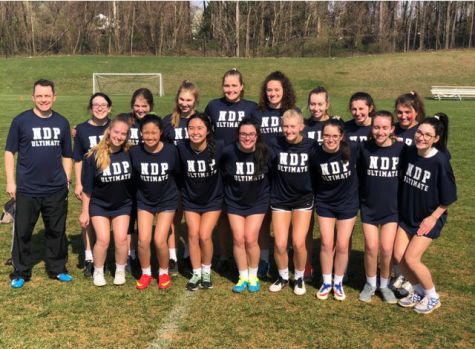 Courtesy of NDP Intsagram