Baltimore Baseball is Back!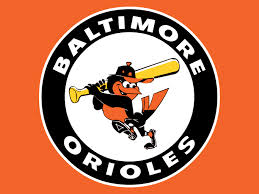 Spring has finally arrived in Baltimore (though the weather might not agree), and that means baseball season is rapidly approaching. Spring training is currently wrapping up in Sarasota, Florida, and soon enough, the Orioles will be back home and ready to start their season. The season starts with a series in Tampa Bay against the Rays from April 6th-8th and then the Orioles home opener versus the Toronto Blue Jays on the 10th.
The Orioles are hoping to come back strong in the 2015 season to follow up on their excellent finish last year in first place in the American League Eastern Division. After falling in the championship series to the Kansas City Royals, the O's are ready to go all the way to the World Series this year.
However, this offseason has been an exciting one for Baltimore's birds to say the least. For one, the outfield has a rather empty-feeling spot out in right field due to the loss of long-time Oriole Nick Markakis. While part of the organization, Markakis was a well-loved player and well-respected teammate. His strong arm and excellent fielding skills will certainly be missed. The O's were also unable to hang on to Nelson Cruz, a big-time power hitter who paved the way last year with 40 homers and 108 RBIs.
The beginning of Spring Training also saw the return of catcher Matt Wieters- albeit a very short stint back playing. Matt Wieters spent most of last season and this year recovering from surgery on his right arm. He has recently been out with a bout of elbow tendonitis. The future is uncertain for him as he continues with rehab assignments. Manager Buck Showalter suggested the designated hitter position as being a position Wieters might play upon his return. For the time being, a definitive date has not yet been set for his return.
Also returning to the lineup is Manny Machado, the young rookie and incredible third baseman for the O's. Knee injuries have ended the last two seasons early for him, but hopes are high that he will have a breakout year. From the start, Machado has demonstrated obvious fielding talent, even garnering him a few comparisons to legendary third baseman Brooks Robinson. While Machado still has room to mature as a player, he has shown great potential so far and could certainly have a major impact on the Orioles this year.
With some of these big offseason changes, the O's will have a few new faces with some others noticeably absent. Hopefully, they will be able to pull together all of their talent to create another winning year. It's baseball season O's fans- so bring on summer!
Nelson Cruz Statistics Provided by: