NDP Track and Field 2014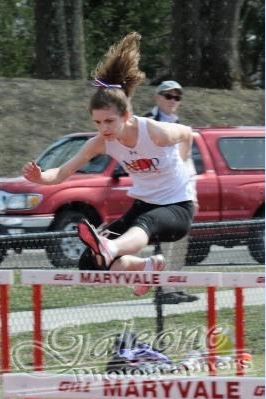 This year the track team was composed of 44 girls and was coached by Tom Klein, Lara Wittstadt, and Ben Dantoni. It was also the first year the team made cuts and had tryouts for the team. The team captains were senior runners, Sumer Legambi and Maggie Sands. The team had many runners, jumpers, and throwers that qualified for the championships at Archbishop Spalding and McDonogh High School. For example, Sarah Kroneberger, junior runner and jumper, qualified in the long jump with a jump of 13 feet 8 inches. Maeve Sheehey, a freshman distance runner, also qualified in the two mile with a time of 12 minutes 57 seconds. Sophomore Emma Beernink also qualified in discus with a throw of 83 feet. Although not everyone qualified in the seven meets throughout the season, everyone had a great season and improved her personal record.
Aside from the meets and practice and running, the team also did many fun things. There were pasta parties where the team bonded and ate pasta and salads the day before the meet. We also had fun practices with helpful and enjoyable relays. The team even gathered together after practice to watch Frozen and eat pizza together! Freshman teammate Claire Fitzgerald says, "I enjoyed bonding with the team and having the opportunity to meet girls from different grades." Track is a great opportunity to meet other girls, and the team is composed of girls from all levels of high school. Senior participant Hannah Aberle says, "I really liked the team dynamic and how everyone worked really hard to improve their times and distances. It was also the perfect season to end my running career at NDP!" Captain and senior runner Maggie Sands says, "It was fun to interact and bond with girls from different grades, and everyone was so supportive of each other! I loved how everyone worked so hard this season, but we also had a lot of fun together!" I think the entire team would agree that this was a great season, and everyone was so supportive and fun. No matter if you were jumping, throwing, or running, there was always someone cheering you on!
Personally, this season with all my amazing teammates was so much fun, and I loved getting to know everyone. Although I didn't qualify for championships, I improved so much over the course of the season. I am so blessed to be on this team, and this was definitely the perfect season!