Poet's Pen: 'Twas the Mystery About Christmas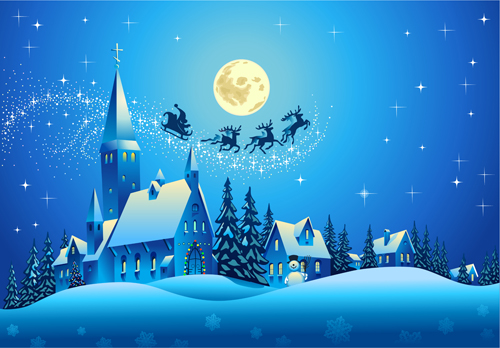 "'Twas the night before Christmas, when all thro' the house, not a creature was stirring, not even a mouse…" and so on, and so forth. We all know the story. But do we all know who wrote it? If the classic first two verses appeared on a Jeopardy board, the answer would likely be "Who is Clement C. Moore?" If the name rings a bell, it's because Moore has been advertised as the author of the iconic poem on every reprint and picture book since 1837. Until recently, that is. There is another poet that has been contested as the author, though both made important contributions to the image of Santa Claus.
Let us ride back on a reindeer-drawn sleigh through time, back to Santa's early days.
Clement C. Moore uncontestably contributed much to the lore of Santa Claus, but the personality we see in his writing raises some questions. Born on July 15, 1779, Moore was a popular Biblical scholar and professor of Oriental and Greek Literature and Divinity and Biblical Learning at the General Theological Seminary. Aside from that mouthful, he was also a poet. In 1820, he wrote a simple, festive poem titled "Old Santeclaus" and… it certainly reflects Moore's staunch, scholarly side. For the good children who "hate quarrels, strife, and noise," Santeclaus leaves apples, tarts, and painted carts — how delightful! But to thankless little brutes with rude manners and haughty tempers, Santeclaus gifts "a long, black, birchen rod, / Such as the dread command of God / Directs a Parent's hand to use / When virtue's path his sons refuse." Ouch. Much more harsh than our Santa today.
More importantly, though, Moore also wrote one of the first letters from Santa. After his wife Catherine died in 1813, Moore was left to care for his nine children, aged three to 15 — a handful, to be sure. He was a family man, and wrote many poems to his children, including one titled "From Saint Nicholas" for his daughter Charity. In it, we spot again the recurring theme of Moore's Santa having a great disdain for bothersome children. Either Charity was a real crybaby, or Moore desperately wanted some peace and quiet — and, considering he was watching nine kids, it was probably both. It's a generally heartwarming poem of simple rhyming couplets; in it, St. Nick regretfully informs Charity that her "screeches and screams, so loud every day" forced him to leave her stocking empty… but she behaves so well in following her bedtime, and she is learning so nicely to spell, that St. Nick promises to leave her something next year if she does as she's bid and quits her incessant crying. Even modern Santa at least leaves lumps of coal for the bad children.
Moore's Santa Claus — or Santeclaus — is noticeably more stern than our Santa today, as were most depictions of Santa at that time. Though still carrying the same air of mystique, he was more of a disciplinarian figure, interceding on the behalf of parents when their goblin children become unbearable, not hesitating to leave you empty-stocking'd if you didn't behave yourself. The Santa of the early 19th century was something from another world: he was the British Father Christmas, the Dutch Sinterklaas, and the fourth-century St. Nicholas of Myra stitched together into a skinny, horse-riding… meanie, to summate. Even Moore's Santeclaus was charitable compared to the popular image at the time. How, then, did we go from the 19th century behavior warden to the oh-ho-ho-ing, unconditional gift-giver of today? This brings us back to that fateful night: the Night Before Christmas.
If taken literally, "A Visit From St. Nicholas" (today known as "'Twas the Night Before Christmas") is a firsthand account of Santa Claus' appearance, demeanor, and just about everything we associate him with today. From the rosy cheeks to the round belly, from the sack of toys to the jolly laugh, from Dasher to Dancer to Prancer to Vixen… this is Santa. The poem is brimming with jovial Christmas energy: the rhymes are smooth, the imagery is pleasant — you could just about fall asleep to it. Compare this to Moore's works and, well… it doesn't add up.
The poem was first published in the "Troy Sentinel" in 1823 — anonymously (and to overwhelming reception!). It was not until 1837 that authorship started to be attributed to Moore. In 1844 — 21 years after the poem's initial release — Moore published a book of his poems (creatively titled "Poems"), and only after his children relentlessly begged him did he include "A Visit From St. Nicholas," effectively claiming the piece as his own. That same year, Moore wrote to the "Troy Sentinel" publisher, a certain Mr. Tuttle, inquiring who had written the anonymous poem. Tuttle responded with: "At the time of its first publication I did not know who the Author was — but have since been informed that you were the author." So, nobody knew. Moore decided to throw proper accreditation to the wind and include the poem in his collection, further piling onto its popularity and reshaping the image of Santa Claus into what we see today.
So who wrote it? Many believe it was a certain Major Henry Livingston Jr., born in Poughkeepsie in 1748. After serving in the Revolutionary Army, he dabbled in verse, publishing in regional journals, often anonymously or under the pseudonym "R." The style and verse of "A Visit From St. Nicholas" much more resembles Livingston's writing than Moore's, nor does it seem very in-character of Moore to publish such a hit poem anonymously. A Vassar College professor named Don Foster compiled evidence supporting the Livingston claim in "Author Unknown: On the Trail of Anonymous" (2000). All things considered, it is probably safe to conclude that Livingston is the true author of the epitomistic Christmas poem.
Let us give Livingston the long-lost recognition he deserves, and thank Clement C. Moore for starting the tradition of exchanging letters with Santa and bringing "A Visit From St. Nicholas" into the limelight.
We have included Livingston's poem below. Happy Christmas to all, and to all a good read!
References:
https://www.mcny.org/story/clement-clarke-moore-and-santa-city
http://c250.columbia.edu/c250_celebrates/remarkable_columbians/clement_clarke_moore.html
Poetryfoundation.org
Poets.org
"'Twas the night before Christmas, when all thro' the house,
Not a creature was stirring, not even a mouse;
The stockings were hung by the chimney with care,
In hopes that St. Nicholas soon would be there;
The children were nestled all snug in their beds,
While visions of sugar plums danc'd in their heads,
And Mama in her 'kerchief, and I in my cap,
Had just settled our brains for a long winter's nap —
When out on the lawn there arose such a clatter,
I sprang from the bed to see what was the matter.
Away to the window I flew like a flash,
Tore open the shutters, and threw up the sash.
The moon on the breast of the new fallen snow,
Gave the lustre of mid-day to objects below;
When, what to my wondering eyes should appear,
But a miniature sleigh, and eight tiny rein-deer,
With a little old driver, so lively and quick,
I knew in a moment it must be St. Nick.
More rapid than eagles his coursers they came,
And he whistled, and shouted, and call'd them by name:
"Now! Dasher, now! Dancer, now! Prancer, and Vixen,
"On! Comet, on! Cupid, on! Dunder and Blixem;
"To the top of the porch! to the top of the wall!
"Now dash away! dash away! dash away all!"
As dry leaves before the wild hurricane fly,
When they meet with an obstacle, mount to the sky;
So up to the house-top the coursers they flew,
With the sleigh full of Toys — and St. Nicholas too:
And then in a twinkling, I heard on the roof
The prancing and pawing of each little hoof.
As I drew in my head, and was turning around,
Down the chimney St. Nicholas came with a bound:
He was dress'd all in fur, from his head to his foot,
And his clothes were all tarnish'd with ashes and soot;
A bundle of toys was flung on his back,
And he look'd like a peddler just opening his pack:
His eyes — how they twinkled! his dimples how merry,
His cheeks were like roses, his nose like a cherry;
His droll little mouth was drawn up like a bow.
And the beard of his chin was as white as the snow;
The stump of a pipe he held tight in his teeth,
And the smoke it encircled his head like a wreath.
He had a broad face, and a little round belly
That shook when he laugh'd, like a bowl full of jelly:
He was chubby and plump, a right jolly old elf,
And I laugh'd when I saw him in spite of myself;
A wink of his eye and a twist of his head
Soon gave me to know I had nothing to dread.
He spoke not a word, but went straight to his work,
And fill'd all the stockings; then turn'd with a jerk,
And laying his finger aside of his nose
And giving a nod, up the chimney he rose.
He sprung to his sleigh, to his team gave a whistle,
And away they all flew, like the down of a thistle:
But I heard him exclaim, ere he drove out of sight —
Happy Christmas to all, and to all a good night."