As the autumn season falls upon us, many coffee establishments have released their iconic fall menus! Delicious flavors like pumpkin spice, apple pie, and spicy chai have made a huge comeback in their popularity. However enjoyable these drinks are, an important question arises of where exactly to buy these seasonal beverages: Starbucks or Dunkin?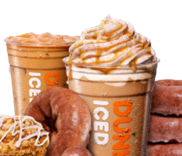 Although both businesses serve a wide range of snacks and drinks, there are drawbacks that come along with each company. Coffee critics often believe that Starbucks has a better quality of espresso and handcrafted drinks, while Dunkin has an extensive supply of superior food products. Starbucks can provide their customers with specialized shaken drinks and a variety of unique flavors. Meanwhile, Dunkin sells their food for a cheaper price.
However, since we are approaching October, it's important to analyze both corporations and specifically their fall menus. Although Dunkin doesn't have an official fall menu, they offer customers the choice to add pumpkin syrup to any of their coffees, as well as pumpkin donuts, muffins, and munchkins. In fact, on September 13th, Dunkin released an Ice Spice Munchkins drink, combining their Pumpkin Spice Signature Latte with a blend of their Pumpkin Munchkins. This drink has become a hit in the past few weeks, as customers enjoy the idea of supporting Ice Spice while purchasing their everyday coffee.
Although Starbucks does not have a drink dedicated to a musical icon, others may argue that its' extensive fall flavors make up for it. Starbucks' official autumn menu consists of over five custom-made teas and coffees. Customers can purchase their Pumpkin Cream Cold Brew, Iced Apple Crisp Oat Milk Shaken Espresso, Iced Pumpkin Cream Chai Tea Latte, and everything in between! Starbucks also offers its new Baked Apple Croissant, in addition to its seasonal Pumpkin Cream Cheese Muffin.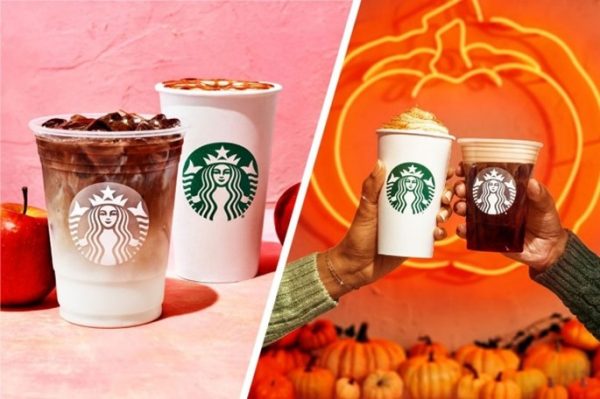 Regardless of each company's autumnal themed menus, both coffee shops are great options to get a treat during this fun season. What's even better about these companies is that there are sales going on! On Thursdays at Starbucks until the end of September, members can buy one get one free when buying any fall-themed drinks. Meanwhile, Dunkin is giving out free iced coffee every Monday until the end of October with an additional purchase! Be sure to jump on these deals before they end and celebrate these few months while they last!