Mrs. Bilenki's Fashion: What is Her Inspiration
If you know Mrs. Bilenki, you know she is wonderful fashion sense. Ever wondered where she got her inspiration? Take look at one speculation on the origins of the outfits we see in the Performing Arts Wing.
Mrs. Bilenki is school-renowned for playing a huge role in the Performing Arts Department at NDP. Between running Concert Choir, Chamber Choir, Liturgy Band, AP Music Theory, and You're a Good Man Charlie Brown, she has a lot on her plate. But everyone wants to know; where does Mrs. Bilenki get her fashion inspiration from?
When students were asked about their speculation on where Mrs. Bilenki gets her fashion sense from, many students had one response: the talented and very English performer, Harry Styles. The reasoning? It is known throughout the school that Mrs. Bilenki dressed up as Harry Styles for Halloween using things from her own closet. Is this a coincidence? Upon further research, it was discovered that she had taken inspiration from the picture below.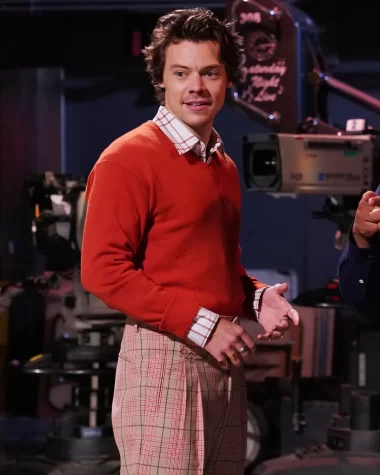 After analysis of Mrs. Bilenki's impeccable style, it was determined that there are no outfits that consistently make an appearance. However, a few styles and patterns find their way into an outfit quite often such as cheetah/leopard print, large earrings, and most of all, ruffles. Does this require any explanation?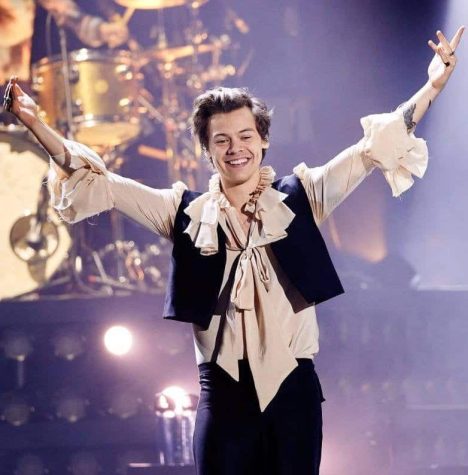 So, who knows if Mrs. Bilenki actually follows Harry Styles more than we think, or is this just a plain coincidence? Either way, Mrs. Bilenki's fashion sense is irreproachable and is very unique. We love it!
References
The Editors of GQ. (2019, November 13). Harry Syles Just Did the Impossible. GQ. Retrieved March 24, 2022, from https://www.gq.com/story/big-fit-of-the-day-11-13-19
Vivid Seats. (2022). Harry Styles Tickets. Vivid Seats. Retrieved March 24, 2022, from https://www.vividseats.com/harry-styles-tickets/performer/58299?vkid=19430802&utm_source=msn&utm_medium=cpc&utm_campaign=50053504&utm_term=harry%20styles&adgroup=1180875712179032&target=kwd-73804889462244:loc-190&device=c&msclkid=1b5878b1d2c31d03be5b1a8e0806a5f2