All Together Now! Review
On November 12, NDP performed the opening night of All Together Now!, a musical containing songs from numerous other musicals. As many of you are aware, Broadway and many school theater performances were canceled or postponed due to COVID-19. All Together Now! was hosted by Musical Theater International (MTI) to celebrate the return of theater. MTI was able to license these songs in all 50 states and 40 countries all around the world as a global fundraiser. Since NDP participated in this incredible initiative, let's see take a deeper look at how the musical was brought to life.
The cast was assisted by various coaches. Ms. Ward would also always say that the cast must learn to "give and take the spotlight," which became a theme that just kept reappearing throughout the theater season. Many would describe sharing the spotlight to be a very important skill for professional actors. Another very important piece of the puzzle has been Mrs. Bilenki, who oversaw all the music that was performed. She helped coach the cast-on technique, vocal balance, and most importantly, how to interpret the song. Presenting the song with the appropriate emotion raised the level of professionalism throughout the show. There is still one more person who assisted in producing a great show: dance choreographer, Ms. Rachel. She was responsible for blocking, creating dance numbers, and instructing the cast. Since the entire show was musical numbers, she really had her hands full, but at the end of the day, she was able to compile truly wonderful numbers. With the guidance of all adults involved, the cast was really able to perform to their highest potential.
There is a multitude of numbers that made this musical great. The emotion ranges from the extremely beautiful performance of She Used to Be Mine (Chloe LaCanfora) to the energetic performance of Be Our Guest (Sara Gnacek). Since the songs come from many different musicals, the NDP version performed them out of context. This gave the cast the chance to interpret them as they wanted to. Children Will Listen (Ally Rossbach, Zhyan Noble), for example, was a plea to the public to refrain from racist actions and emphasized the impact that words can have. Another song, New World (Abby Meyers, Claire Schafer, Abby Bilenki, Abby Marinari), was portraying how everyone's lives came to a screeching halt during the COVID-19 pandemic. It poses, too, a demonstration of how people reacted to the unprecedented situation. At the end of the show, the curtain call song, Why We Tell the Story, (choreographed by Rose Glennon) depicts why theater is performed: to tell the world's many stories and ideas through different perspectives.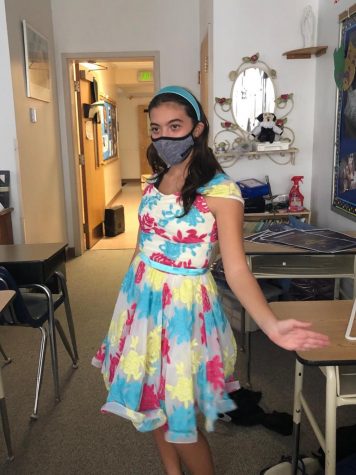 All Together Now! was the telling of stories and tales in a new light to represent theater. NDP's Thespian Society President, Abby Meyers, commented on the peculiar experience of theater for this year: "It was so fun to be back on stage to perform All Together Now! for a live audience. It was definitely a different experience than I'm used to since we had to wear masks during rehearsal, but it made taking them off for performances so much better. Even though rehearsals took up so much of my time, I loved talking to the cast every day. They made the experience so much fun!" I also asked Abby Bilenki, a freshman soloist and a newcomer to NDP's high school level theater to report what her thoughts were. Abby said, "I'd say that NDP theatre was incredibly fun to participate in this year, as a soloist and a member of the cast. The cast was definitely one of the best parts of All Together Now! My fellow castmates were wonderful people to be around, and I loved performing with them. They made my first high school theatre experience all the better. I sincerely hope to perform with some of them in future productions!"
Theater overall connects people and All Together Now! really expanded that premise to the globe.
If you are interested in reading more about MTI's All Together Now!, check out this link: MTI's All Together Now! | Music Theatre International (mtishows.com)
View Comments (1)