Hawaii Five-0 Review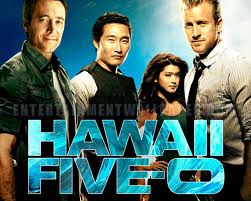 Hawaii Five-O stars Alex O'Loughlin as Steve McGarret, who is a Navy Seal who returned to his home of Hawaii after touring in the Middle East. In the first episode, Steve has just captured a terrorist he has been chasing for 5 years, when he receives a call from his father who is being held captive by another terrorist. Steve has to choose between his father and letting a significant terrorist free. The terrorist starts a fight with Steve and the rest of his unit and ends up shot. In return, the other terrorist shoots Steve's father, John McGarrret.
Steve returns home to attend his father's funeral, and he is invited by the governor of Hawaii to be the leader of a special task force whose job is to keep the streets of Hawaii safe. Steve, Chin Ho Kelly, Danny Williams, and Kono Kalakaua join forces to create Five-0. Chin is a part of the Hawaii Police Department, and so is his cousin Kono. Danny Williams is a policeman from New Jersey who moved to Hawaii to be with his daughter.
Together Five-0 fights the crime of Hawaii and keeps everyone safe. The episodes are very intense, and there are really some strange crimes! One of my favorite parts of the show is Danny and Steve's relationship. They didn't like each other very much at first, but they eventually warm up to each other. They fight and bicker, but they are really good friends even if they don't show it. In season 3 episode 6, Danny is forced to remain still while a bomb is being diffused. Although Steve doesn't have to stay near the bomb, he stays with Danny even though there is a risk it will explode. Steve also helps Danny to stay calm and keep his mind off the bomb.
Hawaii Five-O is an intense show, but it also has its loving, compassionate moments. It is currently on season 4 episode 17, and it was recently renewed for a season 5. This current show is a remake of the original Hawaii Five-O starring Jack Lord as Steve McGarret though. The original show produced 12 season from 1968 to 1980. This is one of my favorite shows, and I highly recommend it to anyone who enjoys crime shows. It airs every Friday (with exception to March 21st, 2014- April 5th, 2014 due to the NCAA Basketball Tournament) at 9 EST time. I hope you enjoy the show as much as I do!