Sexual Assault Awareness Month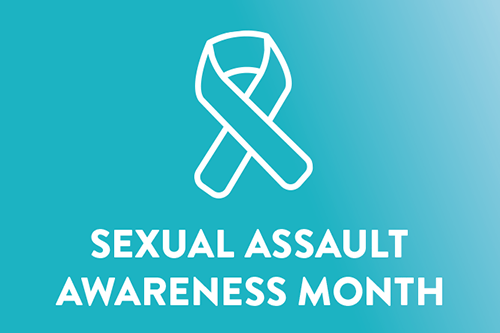 April is Sexual Assault Awareness Month. It is a month dedicated to those who have struggled with and continue to face sexual violence. It is intended to raise awareness of these real-life challenges and help motivate others to stand up against it and prevent it from happening when possible. In the United States alone, there is an average of around 500,000 sexual assault victims each year. These victims could be anyone. They could be your friend, a teammate, the lady at the cashier, one of your parents, etc. Sexual abuse does not only apply to one type of person. It can happen to anyone, which is why it is so important to raise awareness for those who have been wronged.
Some campaigns have been arranged to help raise awareness and help those who are maybe scared to speak up. On the first Tuesday of April, The Sexual Assault Awareness Month Program hosts a Day of Action where people can show their support by wearing teal. It connects the community to fight against the injustices of these innocent people. By wearing this color, you are expressing your support and signaling to others that you have their backs and are a person they can open up to. Another way to show your support this month is by wearing denim on Denim Day. This year, Denim Day lands on April 27th. Show your support by wearing a pair of jeans that day. This is another signal to others who may struggle with sexual harassment that you support them and is someone who is willing to help others.
Sexual Assault Awareness Month is so important because it gives a voice to those who may feel unheard or unable to fight up against the problems they face. If you face any similar dangers, there is a hotline made for victims to contact when they feel they are being sexually abused. Do not hesitate to call if you are in trouble, and contact 1-800-656-4673. Be a voice for those who may not feel like they do. This month especially, raise awareness so that the rates of these acts go down and more people around the world can feel safer in what they do. Sexual assault is not determined by what your wear, your age, or even gender. It depends on the person, so let us make a world where people do not feel they have to hurt others. Let us come together as a community and work together to fight for our people and their freedom to feel safe.