Speech and Debate Metro States Championship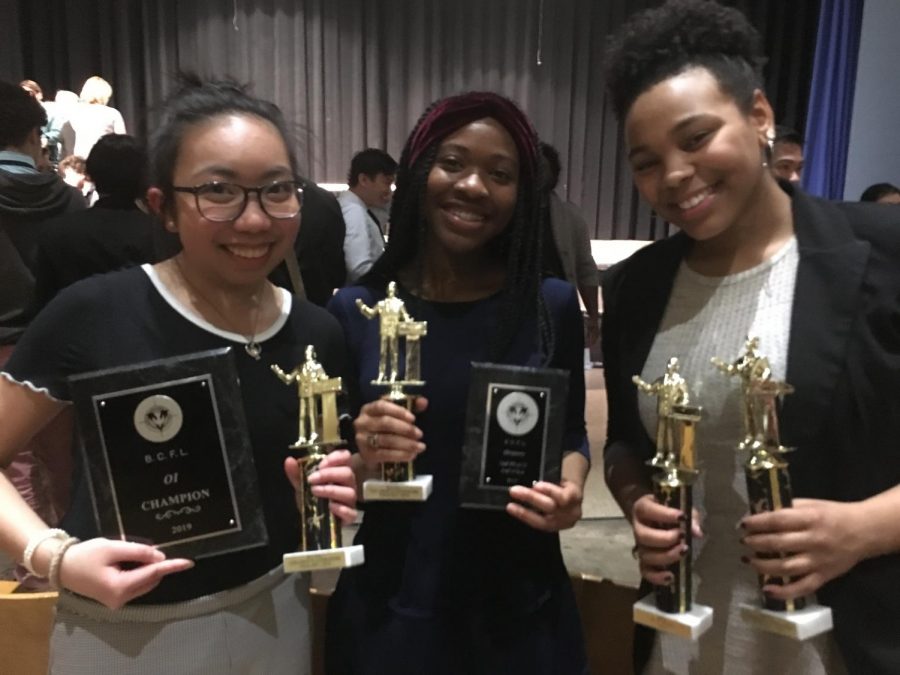 Danielle Escobal, Assistant Editor
April 18, 2019
There are a few reasons why I love being in Speech and Debate:
I am not afraid of public speaking. My first time alone in front of an audience was in second grade, where I sang the very incorrect lyrics to "Can I Have this Dance?" from High School Musical 3 in front of my entire elementary and middle school. I find the staring eyes inviting. If I have the ability to impact people, why would I not?
I am passionate. Why would you speak about a topic that your heart doesn't beat faster for, that your eyes don't glisten for, that doesn't make you feel nervous because you want to do the topic justice? Speaking from the heart is so much easier than speaking from empty memorization. Because I am super selective about my pieces, I absolutely love to perform them. My pieces this year center around my identity as an Asian American and the relationship between child and parent.
I am inspired. Aside from the actual presenting and competing, I have never been more inspired than when I am surrounded by my other teammates and competitors. Everyone is so incredibly talented and amazing. Each piece I watch and listen to makes me feel empowered that our future has hope. The youth is strong. The youth is educated. The youth can change our society for the better. I truly believe I am surrounded by the nation's future leaders.
The 2018-2019 Speech and Debate season has sadly come to an end. With an influx of many new members, this year was extremely exciting. On March 23, Catonsville High School hosted the 2018-2019 Metro State Championship. Eleven members qualified for this tournament and represented NDP beautifully: Derin A. ('22), Isabella B. ('22), Rylan S. ('22), Megan G. ('21), Anna S. ('21), Alexandra S. ('21), Jasmin E. ('20), Micah F. ('20), Danielle E. ('20), Annaliese J. ('19), Maura S. ('19). Rylan, Anna, and Megan, all made it to the semifinals in Declamation. Maura was a semifinalist in Impromptu Speaking. Jasmin won 3rd place overall in Children's Literature and 4th in Oral Interpretation. Micah won 6th place overall in Children's Literature and 1st in Original Oratory. And I won 1st place overall in Oral Interpretation and 5th in Children's Literature. Jasmin, Micah, and I will move forward to represent NDP and our Pink and Blue sisters in Milwaukee, Wisconsin, over Memorial Day Weekend for the Nationals Competition.
Speech and Debate may seem intense and definitely not the ideal way to spend a Saturday from 8am to 5pm, but I cannot help but gravitate to these strenuous but rewarding hours.