Save the Sloths!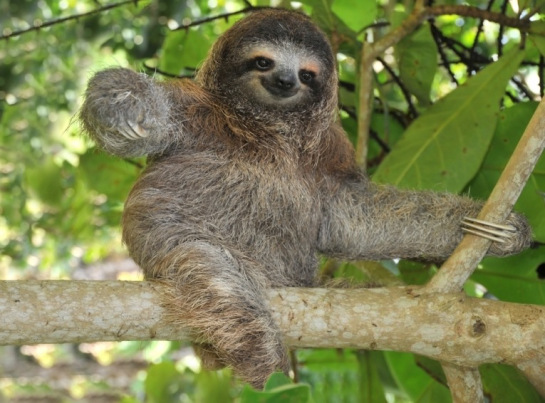 At NDP, when most people hear the words sloths, they think of Ms. Strausbaugh. Every spring at NDP, Ms. Strausbaugh leads a delegation of girls to Costa Rica where they visit a sloth sanctuary, and  anyone who has visited her classroom knows that there are several places to find a picture of a sloth. Most returning NDP girls will remember that last year at the awards assembly, Ms. Strausbaugh won a grant to go to visit the sloth sanctuary over the summer. I had the opportunity to sit down with Ms. Strausbaugh and ask her about her trip.
When asked about the trip overall, Ms. Strausbaugh said that all three weeks that she was there were "really amazing." She went down to Costa Rica with a plan, which was to look into the problem of the pesticides being used by Chiquita and Dole that are affecting these sloths and the rainforests in a negative way. While she was able to really look into this issue while she was there, she discovered another horrible problem the first day she was there. The pygmy sloths, a rare and endangered species of sloths, are being poached and eaten by fishermen in Panama, an area not too far from the sloth sanctuary. Ms. Strausbaugh told me, "Their numbers are critically low, only about 70 left of this rare and endangered species." She knew that this issue needed to be taken care of immediately.
Since coming back from Costa Rica, Ms. Strausbaugh has taken action in order to help these sloths. She has set up a petition (link below) in order to help these sloths. In her petition, Ms. Strausbaugh hopes to get the attention of the "Director of The National Environmental Authority of Panama (ANAM) to take a leadership role in coordinating the local and international stakeholders who are invested in saving these sloths." So far excellent progress has been made; the petition has 5,127 signers from all over the world! But many more are needed in order to save these innocent sloths.
When asked why sloths? Ms. Strausbaugh first replied with "God" but after some thought said, "If the sloths are disappearing, that means the rainforest is disappearing, and since the rainforest is the lungs of the planet, we will be disappearing."
If you would like to sign the petition: https://www.change.org/p/mirei-endara-heras-critically-endangered-sloths-are-being-eaten-by-people-petitioning-the-national-environmental-authority-of-panama-anam-to-protect-the-pygmy-sloths
Save the Sloths!