Fun Easter Recipes
One of the best things about Easter, aside from the bunny, is the fun and delicious treats. What better way to celebrate spring than with festive sweets. Here are some fun and creative Easter recipes that will wow your friends and family.
Leftover Easter Candy Rice Krispie Treats – https://madaboutfood.co/leftover-easter-candy-rice-krispie-treats/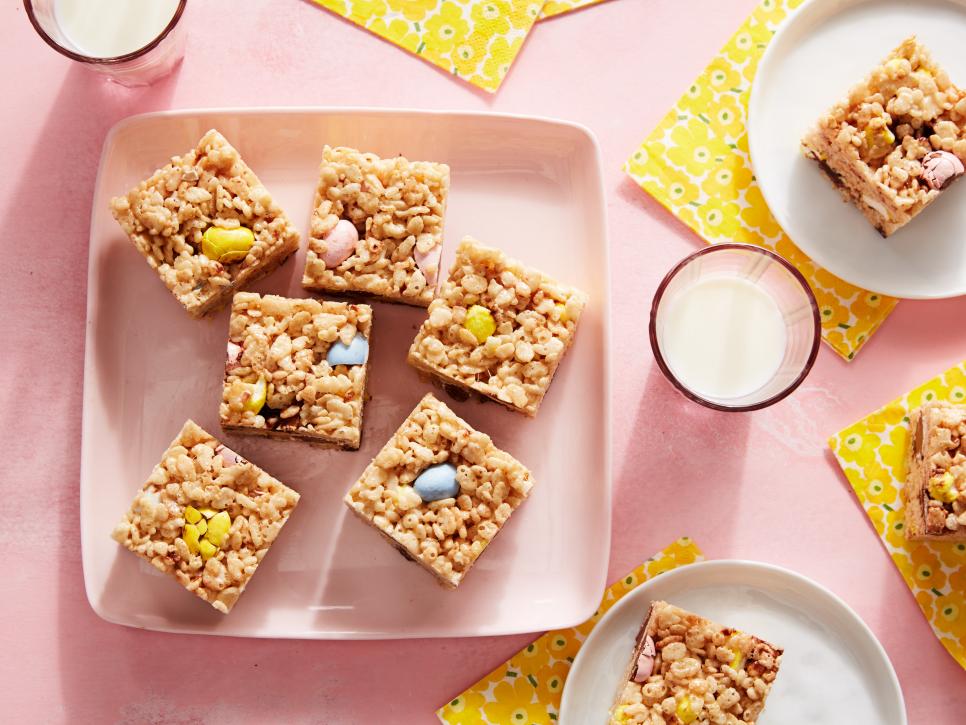 Ingredients:
15 marshmallow peeps (or 

5oz

 regular marshmallows)

2 tbsp butter

2 cups rice Krispies

1/4 cup jellybeans

1/4 cup Cadbury mini eggs

1/4 cup cubed Reese's eggs
Prep Time: 10 minutes
Cook Time: 10 minutes
Total time: 20 minutes
Yields: 9 squares
Directions:
Line an 8×8 baking pan with parchment paper. Heat butter in a large pot over low heat. Once the butter is melted add marshmallows to the pot and mix until melted into the butter.
Pour the Rice Krispies into the pot with the melted marshmallow and toss with a spatula to combine. While warm, fold in the Easter candies.
Press the mixture into the baking pan. Use the spatula or an extra piece of parchment to compress the mixture.
Allow the mixture to chill in the fridge for 30 minutes. Then slice into 9 even squares and enjoy.
Lemon Macaroon Chicks – https://tinybeans.com/make-this-lemon-macaroon-chicks/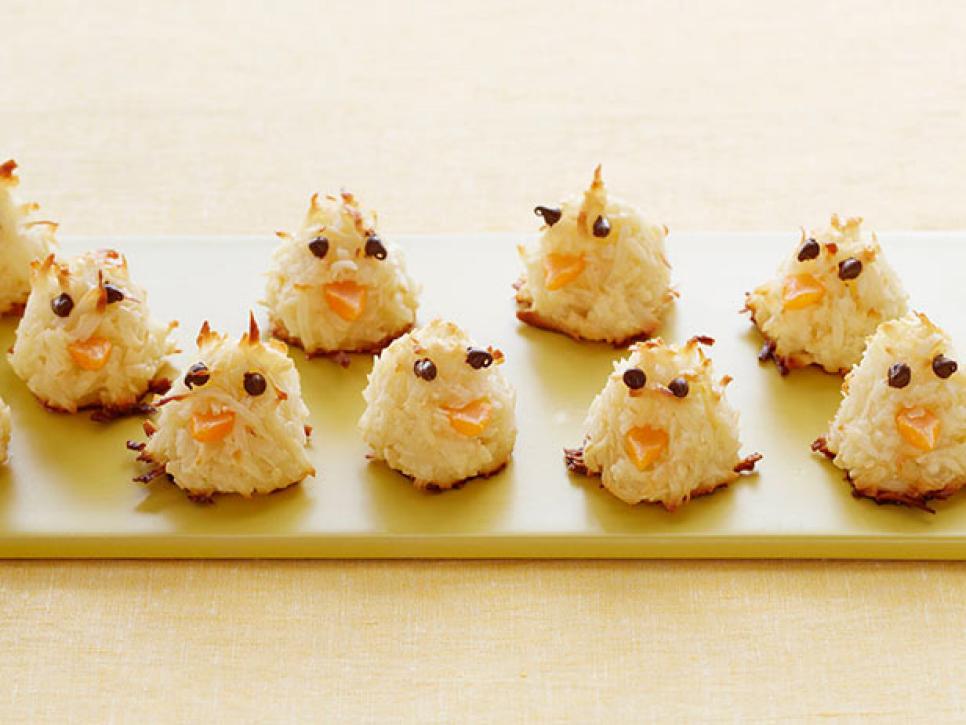 Ingredients:
One 14-ounce bag of sweetened coconut flakes
¼ cup prepared lemon curd
4 large egg whites
Pinch fine salt
15 small orange and/or yellow jellybeans
60 mini chocolate chips (about 2 tablespoons)
Prep Time: 30 minutes
Cook Time: 20 minutes
Total Time: 55 minutes
Yields: about 30 chicks
Directions:
Preheat the oven to 325 degrees F. Line two baking sheets with parchment paper.
Combine the coconut, lemon curd, egg whites, and salt with a spatula in a medium bowl until uniform consistency.
Roll generous tablespoons of the mixture into egg shapes, setting them big side down onto the prepared baking sheets. Repeat with the rest of the mix. Bake until the bottom and a few of the coconut frays turn deep golden brown, for about 20 minutes.
Meanwhile, cut the jellybeans in half lengthwise and set them aside.
Remove the macaroons from the oven and let them cool enough to handle, but are still warm for about 5 minutes.
Take one of the jellybean halves and pinch an end to make a pointed beak. Hold the point, shiny side up, and push the rounded end into the side of a macaroon. Push 2 mini chocolate chips, peak-side in, into the macaroon on either side of the beak for eyes. Repeat with the rest of the macaroons and serve.
Bunny Oreo Cookies – https://crazyadventuresinparenting.com/2020/02/bunny-oreo-cookies.html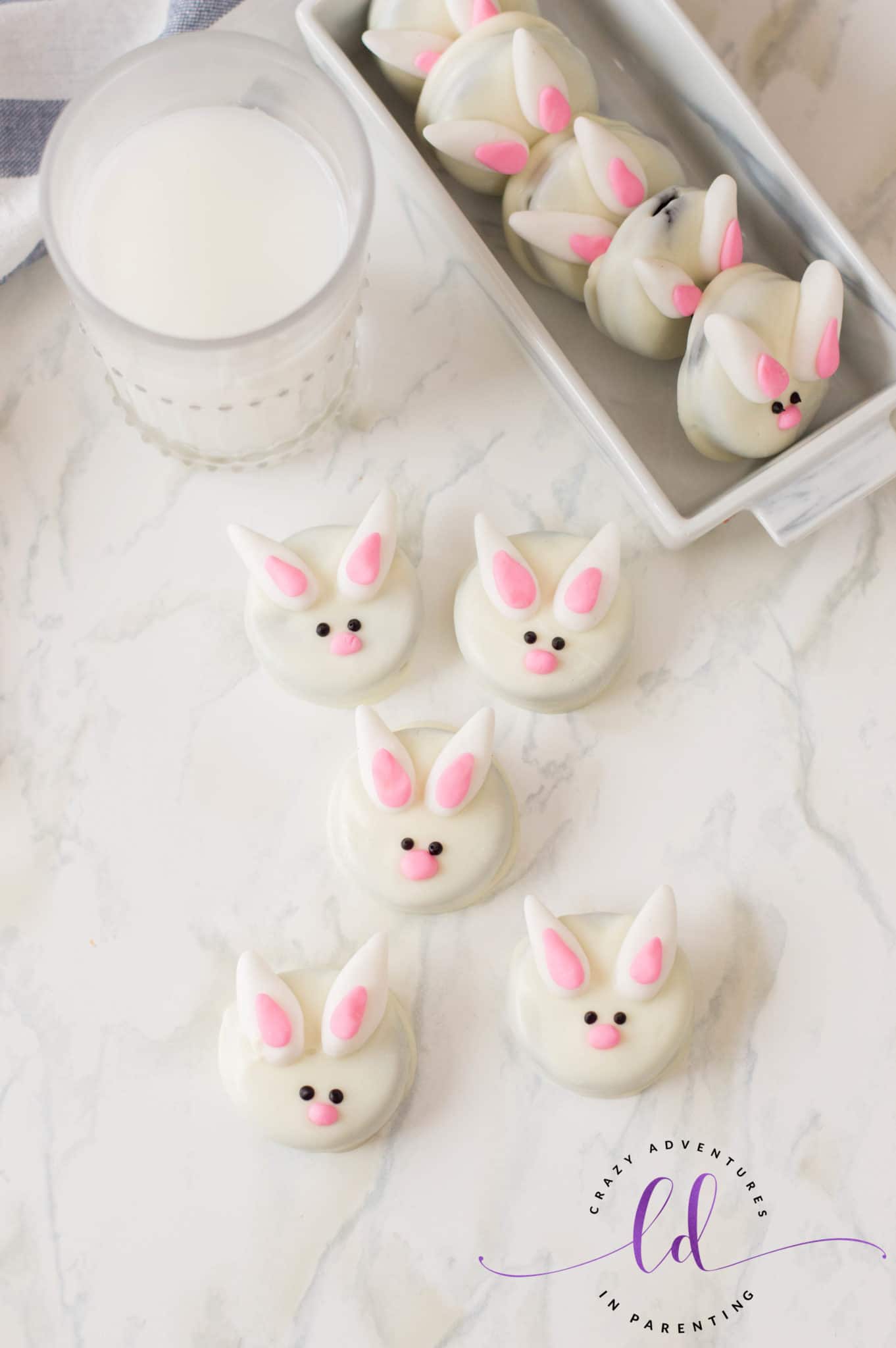 Ingredients:
20 Oreo cookies
8-10 oz. white fondant
6 oz. pink fondant
3 cups white candy melts
Black decorating frosting
Yields: 20 cookies
Directions:
Line a baking sheet with wax paper or parchment paper.
Roll out 40 spheres from the white rolling fondant, about ½ an inch in size each.
Roll out 60 pink fondant spheres, about 1/3 of the size of the white fondant spheres.
Shape each white fondant sphere into a bunny ear shape. To accomplish this, you roll a sphere into a cylinder, about one inch long forming a point on one end.
Shape 40 of the pink spheres into little raindrop shapes. Place one on top of each white fondant bunny ear.
Microwave the white chocolate candy melts in 30-second intervals until completely melted, stirring in between.
Using a large spoon or a fork, dip each Oreo cookie into the melted candy and coat entirely.
Place gently on wax paper to allow the melted candy coating to dry and set.
Assemble the bunny cookies by gently placing two bunny ears and a pink sphere (it'll act as the bunny's nose!) on each Oreo and allow it to set. You can do this while the cookies are still freshly wet from being dipped, or by dabbing a little melted chocolate onto the backs of the ears/nose before placing.
Attach Wilton Tip #3 on the black decorating frosting bottle and pipe out two eyes, just above the fondant nose, onto each dipped Oreo cookie.
Serve and enjoy.
If you want more recipes like these check out the site below. Happy Baking!
https://www.foodnetwork.com/holidays-and-parties/photos/easter-sweets