Thanksgiving Recipes
Thanksgiving is the time to celebrate family, friends, and food! My family has a few traditions when it comes to Thanksgiving. One tradition is we make the food all together and from scratch! It's a lot of work, but what I love about it is that it provides an amazing opportunity to talk, relax, and have fun. I hope you can incorporate some of my family's favorite recipes into your Thanksgiving this year!
My Great Great Grandmother's Sausage Stuffing: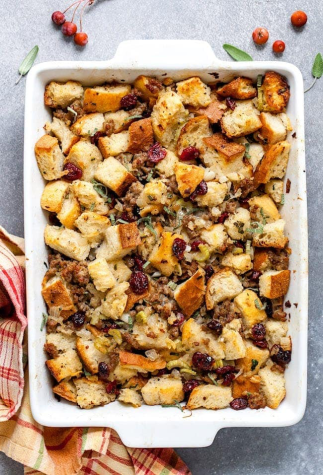 Ingredients:
– 2lbs of sage sausage
– One small onion diced
– 2 stalks of celery diced
– 2 teaspoons of poultry seasoning
– Salt and pepper to taste
– 16 oz of seasoned breadcrumbs
This is for a "normal-sized family" (4-6 people), so on multiple occasions, my family has had to double and triple the recipe.
Directions:
The old way was to stuff it in the turkey, but the modern belief is that the stuffing would not get up to temperature enough to kill the bacteria. So, now we bake it in a separate casserole dish, though when we did it the old way no one in our family seemed to have gotten sick.
Directions:
1) Mix it all together, if it seems too dry you can add a little water.
2) Bake it at 350 F. Check it at 45 minutes, though it could take up to an hour.
3) To be safe check the temperature of the stuffing to ensure it reaches 145 F.
Cranberries With A Twist: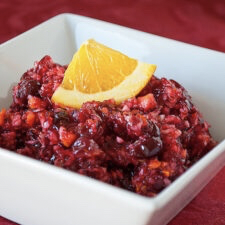 This is a recipe we have found and adopted over the last 10 years. My grandmother started making this recipe in her old house, and the tradition has continued into my Aunt's Kitchen.
Ingredients:
– 2 (12 oz) bags of fresh cranberries
– 2 oranges
– 1 cup sugar
Directions:
1) In a saucepan, combine 1 bag of the cranberries along with zest and juice of one of the oranges. Mix in the sugar.
2) Bring the mixture to a simmer and simmer for 3 minutes. Allow to cool.
3) In a food processor, add the remaining bag of cranberries.
4) Cut the remaining orange into 8 pieces and add to the food processor. Pulse the cranberries and orange together until finely chopped.
5) Combine this mixture with the cooked mixture and serve or refrigerate for up to 5 days.
I hope you enjoy this classic with a twist!
Green Beans with the BEST thing in the world, BACON!!


Sorry vegans and vegetarians, my family LOVES bacon. 😉
Ingredients:
– 6 slices of bacon (Pork Bacon Works Best)
– 2 lbs. green beans
– 1 medium yellow onion
– 2 cloves garlic, minced
– 1/2 teaspoon salt
– 1/2 teaspoon pepper
Directions:
1) In a large deep skillet with a lid, cook bacon over medium heat until crispy. Remove bacon from the skillet and set aside on a paper towel-lined plate. Leave bacon grease in the skillet.
2) Add onion to skillet, and sauté for 3 to 4 minutes, until it becomes translucent. Add garlic and continue sautéing for another minute.
3) Turn heat down to medium-low. Add green beans and seasoning and stir until beans are mixed in with the onion mixture. Cover skillet and cook for about 20 minutes, stirring occasionally, until beans are tender.
4) Taste your beans, if needed, add more seasoning.
5) While the beans are still cooking crush the bacon up and stir it in.
I hope these recipes find their way to your Thanksgiving table, and you thoroughly enjoy them! Thank you for letting me share three of my family's favorite Thanksgiving recipes!