Spring Break Destinations in Maryland
Spring break is an important time for most students as it provides a much-needed respite from the busyness of daily life. Part of the appeal of spring break is that it serves as an opportunity to experience new environments. However, looking for places to visit is often an overwhelming task, especially when looking within one's own state. This spring break, if you are looking to visit places in Maryland, explore some of the opportunities listed below.
National Aquarium – https://aqua.org/
Although the National Aquarium is often a popular field trip location, many people have not visited since. The National Aquarium is home to thousands of animals and is located in Baltimore City, near Camden Yards. Along with exploring the countless exhibits, a visitor to the National Aquarium can attend 4D movie experiences based on the experiences of an aquatic creature, dine at the eco-friendly restaurants, and attend dolphin shows. This is a great place to visit if you find yourself in Baltimore City looking for a place to spend a free afternoon, as it is only a half an hour away from NDP.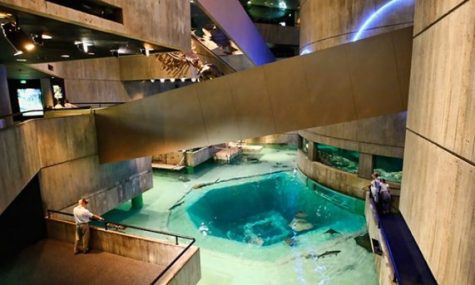 https://www.sbballard.com/portfolios/baltimore-aquarium/
American Visionary Art Museum – https://www.avam.org/exhibitions-and-events
Maryland is home to many fantastic museums, but none is as remarkable as the American Visionary Art Museum. Created in 1984 by Rebecca Hoffberger, the museum is "the official national museum, education center, and repository for intuitive, self-taught artistry." The American Visionary Art Museum is constantly introducing new limited-time exhibits of all different mediums, whilst also including some permanent fixtures. The museum is located next to the Inner Harbor but is currently offering virtual tours and discussions with artists featured within the facility.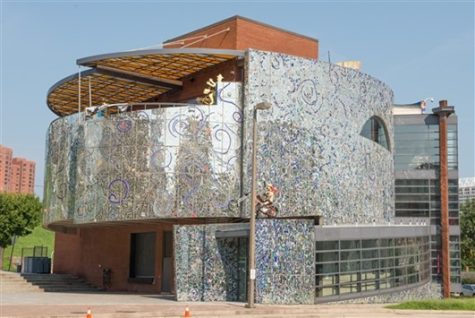 https://travel.usnews.com/Baltimore_MD/Things_To_Do/American_Visionary_Art_Museum_52660/
Thurmont, Maryland – https://www.thurmont.com/
If you are looking for a small town filled with picturesque places to visit, visiting Thurmont is the perfect opportunity. Nicknamed "gateway to the mountains," Thurmont is located in Frederick County close to the Pennsylvania border. There are several attractions located within Thurmont such as the historic Catoctin Furnace, Cunningham Falls State Park, Catoctin Mountain Park, and Catoctin Wildlife Preserve and Zoo. Thurmont is constantly holding community events such as the Thurmont Main Street Farmers Market and movie nights in Thurmont Community Park. The historic aspects of downtown Thurmont and its abundant parks make Thurmont a perfect place for many different people.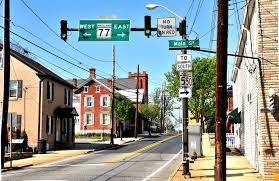 https://en.wikipedia.org/wiki/Thurmont,_Maryland
Swallow Falls State Park – https://dnr.maryland.gov/publiclands/pages/western/swallowfalls.aspx
Located in Garret County, Swallow Falls State Park contains some of the most beautiful feats of nature in all of Maryland. The park contains the Youghiogheny River, a 53-foot waterfall named Muddy Creek Falls, and an 11/4-mile trail snaking through the impressive woods. This 257-acre park is perfect for activities such as hiking, swimming, fishing, and picnicking.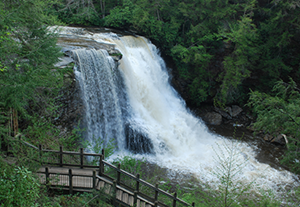 https://dnr.maryland.gov/publiclands/pages/western/swallowfalls.aspx
Chesapeake and Ohio Canal National Historical Park – https://www.canaltrust.org/plan/things-to-do-co-canal/
The Chesapeake and Ohio Canal National Historical Park was created on January 8, 1971, but was first bought by the federal government in 1938. Including 20,000 acres, the park contains hiking trails, biking paths along the Potomac River, and historical canal towns which contain venues for visitors to stop and rest at. Containing over 200 rare and endangered species, the Chesapeake and Ohio Canal National Historical Park is the 10th most visited National Park in the United States, ranking higher than Yellowstone and Yosemite.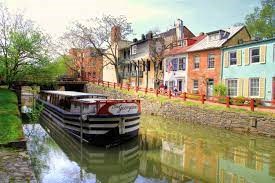 https://www.nationalparks.org/connect/explore-parks/chesapeake-and-ohio-canal-national-historical-park
There are so many other wonderful places to visit in Maryland, besides those listed above. Whether you enjoy hiking, historical venues, nature, or museums, there are so many different opportunities available to explore, some more well-known than others. This spring break, make sure to spend time pursuing activities you enjoy and take this well-deserved break as an opportunity to learn something new and discover new places.
References
Best Places to Visit in Maryland. (n.d.). US News. Retrieved March 25, 2022, from https://travel.usnews.com/rankings/best-places-to-visit-in-maryland/
15 Best Small Towns to Visit in Maryland. (n.d.). The Crazy Tourist. Retrieved March 25, 2022, from https://www.thecrazytourist.com/15-best-small-towns-visit-maryland/
Rodgers, B. R. (2022, March 22). 18 Top-Rated Tourist Attractions in Maryland. Planet Ware. Retrieved March 25, 2022, from https://www.planetware.com/tourist-attractions/maryland-usmd.htm
Swallow Falls State Park. (n.d.). Railey Vacations. Retrieved March 25, 2022, from https://www.deepcreek.com/swallow-falls-state-park
23 Best Day Trips in Maryland. (2022, February 13). Vacation Idea: Dream Vacation Magazine. Retrieved March 25, 2022, from https://vacationidea.com/weekend-getaways/best-maryland-day-trips.html