10 Things To Do Over Christmas Break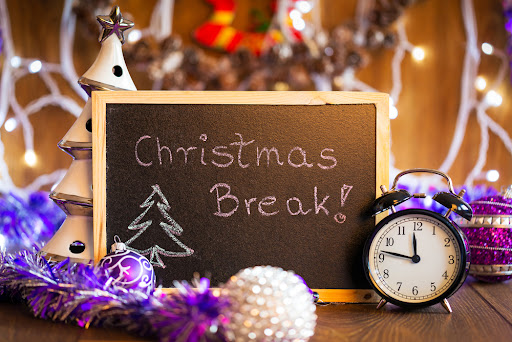 All around NDP, Christmas is beginning to make its appearance and everyone is getting excited for those two wonderful weeks called Christmas break. With break entering our minds, we are beginning to make plans to fill our days during that time. Traditions, activities, friends, and families will fill our time, but when you need ideas for what to do, try some of these.  
Different families have different traditions, but these are some traditions that I have seen many families engage in.  
Begin the tradition of having a Christmas Eve dinner and/or Christmas morning breakfast.

 

This has to be the most obvious one, but set the Christmas tree up together. Put some Christmas music on, or whatever you want to listen to, and spend some quality family time together. 

 

This is one that my family does every year, but I've heard other families do this as well. Find an ornament that your whole family likes and have someone hide it somewhere on the tree as soon as the tree goes up. Whoever finds the ornament first from that time till the night of Christmas Day, gets a prize.

 
During the holidays, you don't just need traditions for your family to do, but you also need activities that can fill your days.  
Find an ice rink, like Ice World or the outdoor ice rink at The Avenue in White Marsh, and go skating with your friends and family. 

 

If we're lucky, it could snow over break, and if it does, go outside and sled with your friends and family.

 

If it's too cold outside for you, bowling is always a fun option. You can go with friends and family to see who can knock down the most pins.

 

There's nothing like sitting down with hot chocolate, popcorn, and other snacks to watch the many Christmas movies like "How the Grinch Stole Christmas," "Home Alone," or "National Lampoon's Christmas Vacation." There are so many great Christmas movies that are out there to enjoy!

 

Christmas break is a great time to try recipes that you've wanted to try for a long time or have just found recently on the internet. Find a new recipe for baked goods or make dinner for your family. It's a great thing to do over break. 

 

A Secret Santa is always a fun way to get presents for your friends. Get a group together, write their names down on a sheet of paper, and pull names out of a hat. The person's name that you pull out of the hat is the person who you're going to buy a present for. After a couple days, organize a time when you can all get together to exchange gifts.

 

Of all the things that people do over Christmas break, this has to be the most important. If you have nothing else to do, take a nap. If you have nothing to do that morning, sleep in. It's fun and relaxing!
I hope that these help you fill the time that you have over Christmas break. Merry Christmas!