10 Halloween Group Costumes Perfect For All
As the holiday of pumpkins, candy corn, and scares grows ever-closer, finding a costume is becoming more and more urgent. Hunting for a perfect group costume to wear is sometimes a difficult and time-consuming task, causing it to often be pushed back until the very last second. However, the decision does not need to be delayed any longer, for this article is a comprehensive list of ten potential Halloween group costumes perfect for any sized friend group!
1. The Scooby Gang
A childhood classic, these characters are a perfect idea for a group of five! In case you have never heard of the Scooby Gang, Velma, Fred, Scooby-Doo, Shaggy, and Daphne are a group of mystery-solving friends who are the stars of the animated television show "Scooby-Doo," a show perfect for any age. The Mystery Gang, as they are known as in the show, goes on many different adventures and solves many complex mysteries. As for the costume difficulty, it can be as simple as a collection of brightly colored t-shirts, or as involved as wigs and a dog costume, all based on where and when the costumes are worn. All in all, it's an easily recognizable and easily made costume if you are looking for a bit of nostalgia along with your costume.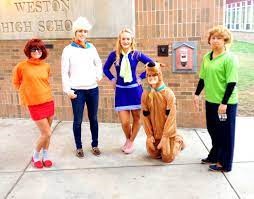 https://www.pinterest.com/pin/555561304003737666/
2. Tinkerbell and Friends
This childhood classic is another great option for a group of six: Tinkerbell the tinker fairy and her friends Fawn, the animal fairy; Silvermist, the water fairy; Rosetta, the garden fairy; Iridessa, the light fairy; and Vidia, the fast-flying fairy. Featured in several Disney movies based on Tinkerbell's world, Tinkerbell and her friends represent a wide variety of talents and personalities and go on several different adventures throughout all of the films. Similar to the Scooby Gang, these costumes can be as ambitious as the group wants, time permitting. Just remember your faith, trust, and pixie dust!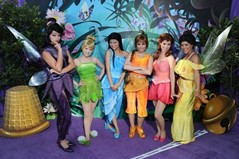 https://www.pinterest.com/pin/279786195577781412/
3. Skittles and/or M&Ms
A costume that is perfect for a very last-minute decision, a group of M&Ms is commonplace at Halloween events. Nothing goes more perfectly with the nature of Halloween than dressing up as a piece of candy, so an M&M group costume screams Halloween. This group costume idea is very easy to pull together Halloween morning as most of the items needed are most likely already in your closet. For a fun twist for people who prefer fruit-flavored candies over chocolate, try dressing up as a group of Skittles!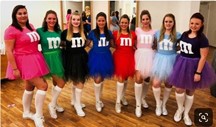 https://www.pinterest.com/pin/13581236365963162/
4. Disney Characters/Princesses
A great way to fulfill your childhood princess dreams, dressing up as a group of Disney characters can be as cohesive or as random as the group desires. Members of the group can dress up as characters in the same movie or as their personal favorites, and the group still works! Plus, for those who are not princess fans, dressing up as beloved childhood classics such as Stitch from "Lilo and Stitch" or Sebastian from "The Little Mermaid" can be a fun way to express yourself while still being part of a group. Some other suggestions for more cohesive Disney groups are Snow White and the Seven Dwarfs, from "Snow White and the Seven Dwarfs"; the Parr family, from "The Incredibles" movies; and Winnie the Pooh and friends, from the movie "Winnie the Pooh." Again, the difficulty is varying based on who the members of the group decide to dress up as.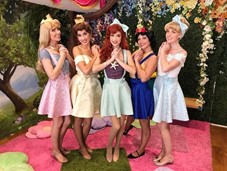 https://www.pinterest.com/pin/317855686200546910/
5. Phineas, Ferb, and Friends
Continuing with the theme of childhood television shows, Phineas, Ferb, and their lively group of friends from the Disney XD show "Phineas and Ferb" are perfect for a group of any size, depending on who the group wants to dress up as. In the show, brothers Phineas and Ferb spend their entire summer inventing a new physics-defying invention each day, much to their older sister Canadice's annoyance. Every day Canadice makes it her mission to "bust" her brothers, as their parents have no idea what occurs every day, but she is never able to succeed. For the costumes, the group can choose to focus solely on just Phineas, Ferb, and their many friends, or can expand to include their pet platypus Perry or the antagonist Dr. Doofenshmirtz.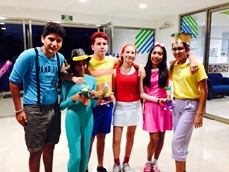 https://www.pinterest.com/pin/369576713147424932/
6. High School Musical
A Disney Channel Original Movie with the perfect message for a group costume (we're all in this together), "High School Musical," with its many sequels and spin-offs, creates a large collection of characters to chose from, all with their own personalities and interests. The movie's main protagonists, Gabriella Montez and Troy Bolton could not be more different. Troy, as captain of the basketball team, spends most of his time focusing on his sport, but when Gabriella transfers to his high school, he suddenly finds himself expressing new interests in singing and the school musical, much to the shock of the bold musical star Sharpay Evans and her twin brother Ryan. As these characters are meant to be in high school, creating costumes is a fairly simple task and should not require many outside materials.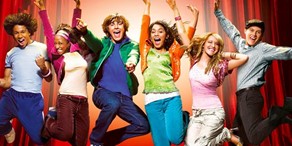 https://www.seventeen.com/celebrity/movies-tv/g18818087/movies-like-high-school-musical/
7. Mickey Mouse
The face of Disney, Mickey Mouse is about as recognizable as a characters comes. Mickey and his close friends Daisy Duck, Donald Duck, Goofy, Pluto, and Minnie Mouse serve as a perfect picture of friendship. The group could even expand to include his other friends such as Pete, Chip and Dale, Clarabelle Cow, and others. A simple, distinguishable costume, Mickey and his friends are great for Disney-lovers who just want to relive their childhood favorites.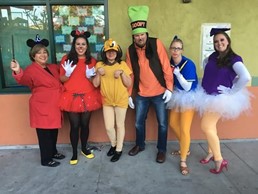 https://br.pinterest.com/pin/18155204735977058/
8. Peanuts
Almost everyone should be familiar with Charlie Brown's unbeatable bad luck, along with the rest of the Peanuts gang: Lucy, Linus, Sally, Peppermint Patty, Schroeder, Snoopy, Woodstock, and Marcie, just to name a few. Featured in movies for every holiday as well as some days in-between, the Peanuts gang are a beloved childhood and holiday classic. The Peanuts gang is perfect for groups of three to nine and can be simple or complex depending on which characters are chosen. For an extra boost of creativity, try dressing up as the Peanuts gang's Halloween costumes, a perfect way to generate more Halloween spirit.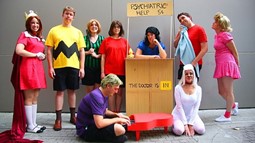 https://www.pinterest.com/pin/263742121903308417/
9. "Spice" Girls and/or Other Condiments
For those looking for more of a creative costume not based on specific characters, this is the costume for you! Dressing up as a group of spices found in your kitchen is sure to prove as a fun challenge while also gaining a few laughs. If you are not as interested in puns, dressing up as your favorite condiment for any food, from a hotdog to a sandwich, can serve as a fun way to get your creative juices flowing while also having a blast. Dressing up in these costumes is more involved, so make sure to save some time to coordinate with the rest of your group ahead of time.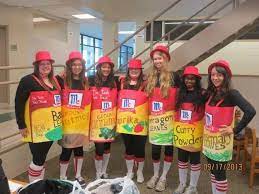 https://www.buzzfeed.com/alannaokun/just-dont-separate
10. Care Bears
A colorful but easily created costume, dressing up as the Care Bears is perfect for a last-minute decision. The best part about dressing up as the Care Bears is that there is a very wide variety of characters to chose from, so each member of the group can really pick which bear interests them the most. This group costume is also great for some last-minute editions to the group, as there is not a limited number of characters to chose from. This costume also leaves room for some fun variations such as adding skirts or glitter. All in all, it's a great choice for something simple but cohesive.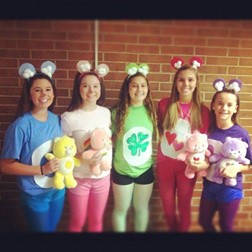 https://www.pinterest.com/pin/4714774585081327/
That was a list of ten different Halloween costume ideas perfect for all different groups, filled with a variety of characters and ideas, all with varying amounts of involvement. Hopefully at least one of the ten above items sparked your interest, even if just to lead you down a different way of thinking than originally planned. However, it is important to remember that it is not the difficulty of the costumes or the number of people in the group that is the important part of Halloween season, it is the friends you chose to share this moment with. Choose a costume that you will remember years down the road, something that embodies your personality and relationship with your friends. Choose something you are proud to have worn and remember all of the wonderful memories you made with those closest to you. Have a great Halloween!