My Yiayia's Traditional Thanksgiving Dinner Recipes
From generation to generation, my yiayia's recipes have been a staple at Thanksgiving dinner. These authentic recipes were passed down over the years and have traveled from Cyprus to our dinner table.  In case you're wondering, Cyprus is a small Greek island located further south of Greece, and "yiayia" translates to "grandmother." The smell of these delicious foods gets me even more excited for the holiday season and brings back so many good memories. So here are three of my yiayia's favorite recipes, and maybe you will consider these for your next Thanksgiving dinner!
Greek Stuffing: (gemisi)
https://thebrookcook.files.wordpress.com/2018/11/img_91511.jpg
Ingredients:
1 ½ cup of uncooked rice
1 pound of sage sausage
1 cup diced onions
1 cup diced green pepper (optional)
½ teaspoon salt
¼ teaspoon black pepper
1 ¾ vegetable stock
1 bay leaf
1 tablespoon cinnamon
½ cup chopped fresh parsley
1 cup chopped roasted chestnuts
Cooking Instructions:
In a large skillet over medium heat, cook ground sausage and onion. Drain grease.
Mix in the rice and chestnuts.
Season with salt and pepper.
Add vegetable broth
Add one tablespoon of cinnamon and fresh chopped parsley.
Cook until liquid has been absorbed.
Adjust seasoning to taste
Yiayia's stuffed grape leaves (dolmades)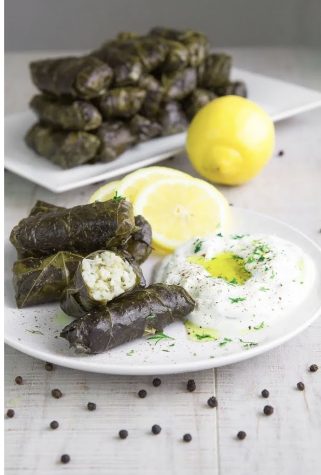 https://philosokitchen.com/wp-content/uploads/2019/03/dolmades-final-1-squared-HIGH.jpg
Ingredients:
1 16 oz jar grapevine leaves
1 onion chopped fine
1 ½ lb. cooked ground beef
1 cup uncooked rice
1 tablespoon fresh minced dill
1 tablespoon fresh minced parsley
2 tablespoons dried mint
1 tablespoon salt
Dash of pepper
1 tablespoon tomato paste diluted with water
¼ cup olive oil
Cooking Instructions:
Rinse the grape leaves in cold water two times to remove brine preservative. If leaves are tough, boil water and blanch for 3 minutes.  Drain in colander and pat dry with paper towels (if leaves are fresh grapevine leaves, this blanching will not be necessary).  Reserve torn leaves to layer bottom of pot.
In a large bowl, combine onions and remaining ingredients to make filling. Mix well.
Place grape leaf, vein side up on cutting board. With a paring knife or scissors, nip off stem flush with leaf.  Put a tablespoon (or more, depending on size of leaf) of mixture on leaf.  Fold the stem end over the meat mixture, then the two sides toward the center and roll up tightly.
Add ¼ cup olive oil and line bottom of 3-quart pot with torn leaves. Arrange the dolmades seam side down, in layers.  Place a heatproof plate slightly smaller than the rim of the pot to keep dolmades from unrolling.  Add one cup water and one cup vegetable broth,
Cook over medium heat for 45 minutes until tender.
We like to top dolmades with marinara and serve with tzatziki sauce and pita bread.
Enjoy!
Buttertwist Cookies (Koulouakia)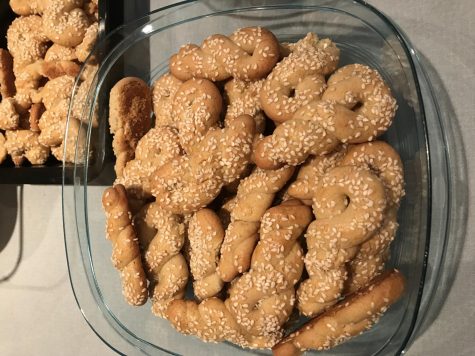 Ingredients
¾ lb. unsalted butter
1 ¼ cup granulated sugar
2 eggs
2 tablespoons orange juice
1 teaspoon vanilla
¾ teaspoon baking soda
1 ½ teaspoon baking powder
5 ½ – 6 cups sifted flour
For topping
1 egg beaten
Sesame seeds
Cooking Instructions:
Beat butter and sugar in mixer for 10 minutes
Add eggs
Add orange juice
Add vanilla
Add baking soda and baking power
Continue mixing all ingredients
Begin to slowly add flour one cup at a time
After the 5th cup of flour remove from mixer and begin kneading the dough
Continue to add flour until dough no longer sticks
Place in refrigerator for 30 minutes before rolling
Pinch off pieces of dough a littler larger than a walnut and roll into ropes of dough
Form into a braided twist
Place on ungreased cookie sheet, brush with beaten egg and sprinkle with sesame seeds
Bake at 400 degrees for 12 – 15 minutes
We like to enjoy these delicious desserts with a cup of Greek coffee
These delicious Greek recipes will leave you wanting more with your Thanksgiving dinner. These recipes may be different from your usual Thanksgiving turkey, but they will leave you feeling warm on the inside. My yiayia's recipes are unique, and she has been using these recipes for so many years. I hope you all have an amazing Thanksgiving and hope you will consider these recipes for your dinner table.