Celebrating Halloween During COVID-19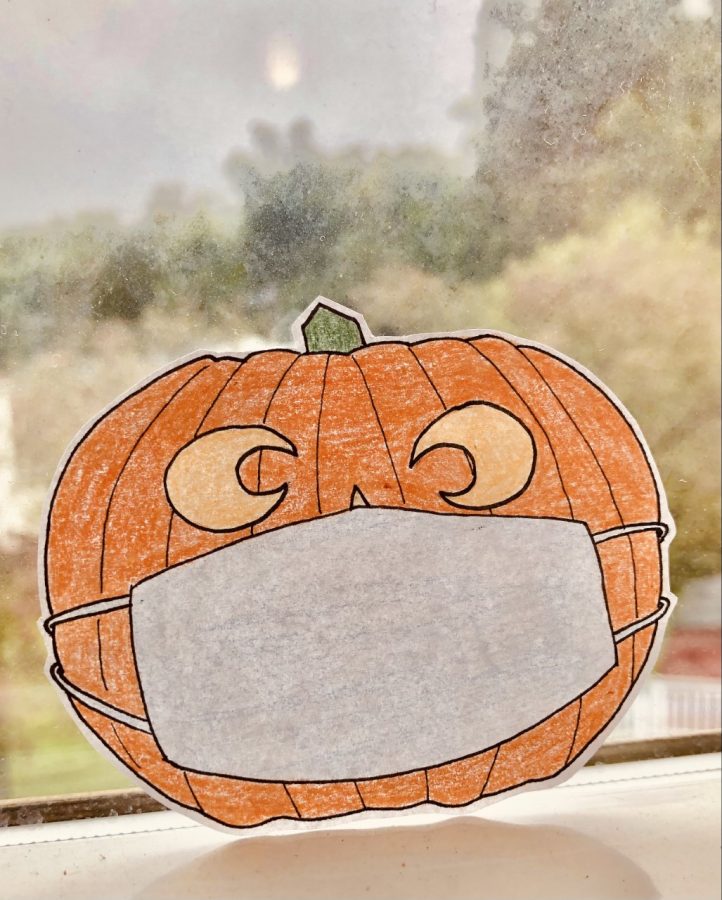 October 31st has always been one of my favorite days of the year. What started out as a Celtic tradition to ward off ghosts 2,000 years ago has become a night of dressing in costumes, eating massive amounts of candy, putting up elaborate decorations, and watching scary movies. However, because of COVID-19, it looks like the way we celebrate Halloween will have to change this year.
Since trick-or-treating, haunted houses, and late-night parties aren't in-line with quarantining and social distancing, here are ten ways to celebrate this spooky season while still staying safe:
Decorate!
If you really want to get in the Halloween spirit, start by going all out with decorations this year. Decorate the outside of your house with fake cobwebs and gravestones and set up some skeletons or jack-o-lanterns. On the inside of your house, put up lights, paper bats, or rubber spiders. There's no limit to what you can do. Use store bought décor, or, if you're up for it, make some of your own. Whatever you do, decorating will certainly help you get excited for Halloween.
Watch a spooky movie or TV show
There are tons of great Halloween and horror movies out there to get you in the mood for the season. Some family favorites include "Hocus Pocus" and "The Nightmare Before Christmas." If you're interested in horror, check out "A Quiet Place" and "Happy Death Day." There are also many TV shows that are perfect for Halloween and the fall season in general. "Supernatural," "The Chilling Adventures of Sabrina," and "Stranger Things" are shows that are both mysterious and thrilling. Shows like "Friends," "The Office," and "Parks and Recreation" also have fun Halloween themed episodes. There's something out there for everyone.
Read some Halloween/fall themed books
If you're looking for a quieter activity, reading scary books is a great pastime for you. Not only can reading be an enriching and educational activity, it can also be fun and exciting. No matter what genre you enjoy, there's a great book for you to enjoy this fall. If you're looking for some awesome recommendations, check out NDP Gateway's article on horror books that you can read during the Halloween season.
Make some Halloween masks
Now that we have to wear masks every time we leave the house, unique face masks are a great way to express your creativity and stay safe at the same time. Masks with jack-o-lanterns, skeletons, and other creepy patterns are a perfect way to show your Halloween spirit. Whether you choose to buy a fun mask or make your own, you'll be able to keep yourself and others safe. Even if we have to cover up our faces, we don't have to cover up our spirit.
Enjoy Halloween treats at home
An important part of Halloween is eating delicious treats and candy. Pumpkin-flavored drinks and desserts are often popular treats this time of year. Candy apples and different types of pies are also popular options. Other Halloween treats include cookies, brownies, and cupcakes shaped as fun Halloween creatures. There are lots of desserts you can make yourself, like cookies shaped as ghosts and chocolate broomsticks, but if baking or cooking isn't your thing, there's nothing wrong with enjoying some store-bought candy or treats for yourself.
Host a Zoom costume party
If you want to hang out with your friends but can't meet up because of social distancing protocols, you can host a party over Zoom. There are plenty of ways to do Halloween activities over video chat. You can put on a Halloween playlist, watch a scary movie together, or have a costume contest. Over Zoom, you and your friends can show off your costumes and have a great time. Overall, hosting a party over Zoom is a great alternative to hosting one in person.
Visit a pumpkin patch
There are many reasons you should go and visit a pumpkin patch. First, you can buy some pumpkins to use in your Halloween decorating. Buying pumpkins also allows you to support local farmers and business owners. Pumpkin patches also make for a great photo shoot location and going to a pumpkin patch is a great way to go outside and enjoy the fall weather while remaining socially distanced from other people. Of course, if you're up for it, you can also try carving the pumpkins you get.
Wear socially distanced costumes
Group costumes are a popular Halloween tradition amongst friends. This year, however, it's important to remember that all costumes and activities should be done while maintaining proper social distancing protocols. There are many great ideas that you and your friends can come up with together or find online in order to dress up together. Costumes that force people to social distance or have a mask incorporated into them are some great places to start.
Find some drive-through Halloween activities
There are also many other Halloween activities you can do from the safety of your car. Socially distanced trunk or treats are one type of fun event. Another thing you can do is find a local or pop-up drive-in movie theater. It's a bonus if the drive-in theater is playing a horror film or a classic Halloween movie. Finally, drive-in haunted houses have recently become a popular attraction. You'll be able to get the full experience of a haunted house while staying in your car.
Dress up in a costume just for the fun of it
Even if you're not going out or meeting up with friends, you can still wear a costume at home for the fun of it. No matter how simple or complicated your costume is, dressing up is a fantastic way to get in the Halloween spirit and get excited for the day. Even if I can't go trick-or-treating this year, I know that I'll still be dressing up.
There are so many things you can do this Halloween while following the proper CDC guidelines. No matter what you do, you're practically guaranteed a great time. I hope that everyone has a happy Halloween this year!