How to Honor Mary this Month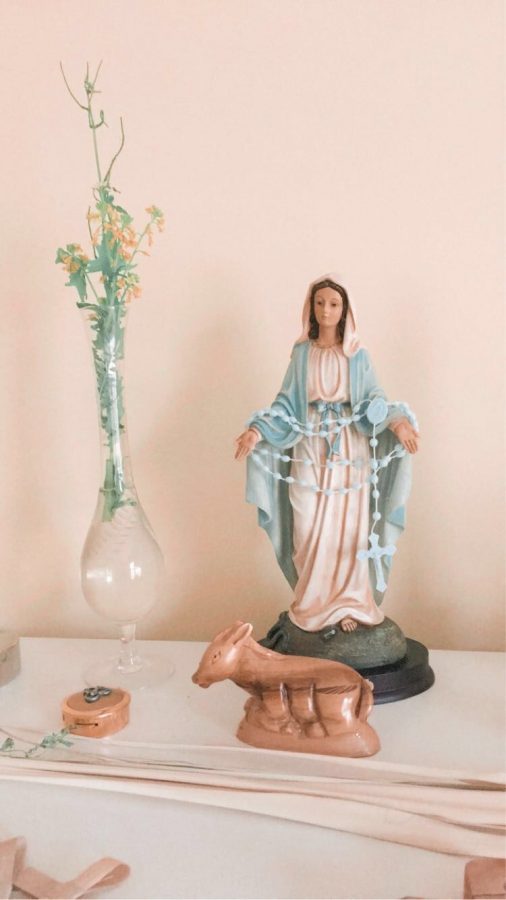 May is traditionally the month we celebrate Our Lady, Notre Dame. While we are spending more time at home with our families, this is the perfect opportunity to take part in some activities to honor Mary!
Pray the Rosary

The rosary is such a powerful prayer, and this during this month Pope Francis is asking everyone to pray it for the end of the coronavirus. Many miracles have been attributed to this devotion, and it's very easy to pray with your family. The rosary really is not as complicated and boring as you may think — and you can even start small with a decade a day! If you don't know how to pray it, click the link below:
https://blessedisshe.net/blog/how-pray-rosary/
Put an image or statue of Mary somewhere central in your home

Perhaps you and your family can create a miniature Marian shrine! All you need is a statue or picture of Mary (if you don't have one, you can print one off of the Internet), some flowers (if you don't have real flowers, get creative with tissue paper flowers), a rosary, candles, and any other decorations or items you want to add.

Learn about Our Lady of Fatima

The story of the apparitions of Our Lady in Fatima, Portugal, is incredible, and her feast day was recently on May 13. Take some time to learn about this phenomenon:
https://fatimachurchabq.org/our-lady-of-fatima-miracle
I wish you and your family a great month under the protection of our spiritual Mother, and I hope you will come to love Our Lady.