Spring 2022 Fashion Trends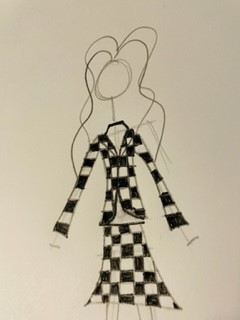 New season… new fashion trends!
Spring 2022 is already here which means a new wave of design, color palettes, and styles to fit the evolving fashion scene. From Prada to Free People, many stores are making headlines with their new spring collections! Designers are creating innovative designs and bringing back trends from the 90s and early 2000s.
Matching Sets!
We have seen matching sets throughout the years with companies like Chanel and Ralph Lauren, but they are truly paving the way in 2022. From sweatsuits to knitted tops and skirts sets we can see matching sets infiltrating the fashion world. Current fashion influencers are bringing sets into their everyday wardrobe. We can see sets worn on fashion influencers such as Emma Chamberlin and Matilda Djerf. Sets range from electric neon colors to monochrome pastels! Along with monochrome pastel sets, some specific prints that are incorporated include the classic check print and delicate floral pattern. Matching sets are showcased in everyday life and high fashion which show their true versatility.
Another form of matching sets are skirt suits! These skirt suits include a cropped blazer and high waisted mini skirt! We can see these skirt suits in the Chanel spring/summer 2022 collection in a multicolored and light purple shade. This new take on suits truly modernizes its silhouette. Skirt suits are perfect because they are professional and come in many colors. Skirt suits are now being sold at Zara along with Chanel, allowing for them to be marketed to a wide audience.
Bringing it Back!
From slip dresses to baby tees, the 90s are back in style and today's top designers are ready to embrace it fully. We caught a glimpse of 90s fashion trends coming back in 2019 with celebrities like Gigi Hadid and Kendall Jenner wearing platform Doc Martin's, but in 2022 90s fashion trends are coming back in full force. Specifically keep a look out for maxi skirts and baby tees. Maxi skirts have been majorly launched in silk, tulle, and denim fabrics by designers Louis Vuitton and Brandon Maxwell. In these collections maxi skirts have been matched with both leather jackets and silk tops which shows the ability to mix and match fabrics with maxi skirts! Onto the more relaxed style, another 90s fashion trend that is making a comeback is graphic baby tees. Baby tees are paired well with shorts, skirts, and denim! Baby Tees can be found in stores like Marc Jacobs, and in apps like Poshmark and Depop (for true 90s baby tees!)
Platforms…Platforms…Platforms!!!!
Platform shoes have been circulating in 2021 but in 2022 its going to be hard to find a shoe without a platform! Platforms are being added to the classic pair of boots and tennis shoe with brands like Steve Madden and Converse. Along with varying heights platform shoes come in an array of colors including neon pink and grass green (major spring 2022 colors!) Platform shoes can be closed or opened toes depending on the look. Platform shoes can also be paired with any of the clothes previously mentioned in this article such as matching sets and maxi skirts! Overall platform shoes are a staple piece that one must have in their wardrobe for spring 2022!
Spring 2022 is going to be a season to remember in the fashion world. While implementing new designs and structure, spring 2022 is also bringing back decades old fashion trends seamlessly! Spring 2022 is going to be the season to beat in the fashion industry!