Getting to Know the Dean of Students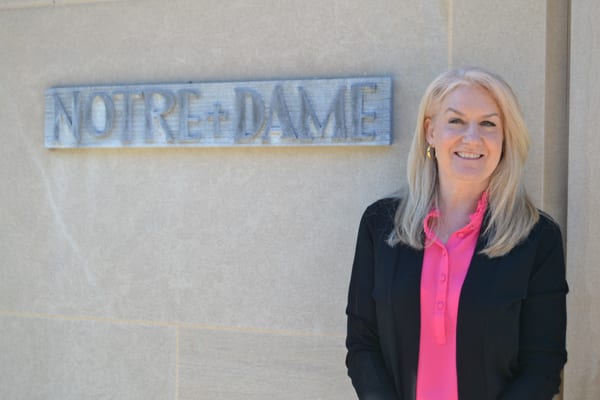 This fall, NDP enthusiastically welcomed a new Dean of Students. In these unprecedented times, Mrs. Simmons has spent the past months innovating and collaborating with students and faculty to make this year the best it can be, despite the many challenges of a pandemic.
An experienced educator, Mrs. Simmons comes to Hampton Lane after serving as the director of Operation TEACH at Notre Dame of Maryland University for 15 years. This is a post-graduate teaching program, where students earn their master's degree in education while working in a Baltimore-area Catholic school. Prior to this, she also worked at the Institute of Notre Dame and Archbishop Spalding. When asked "Have you always felt called to education?" she responded, "Yes. I have always felt called to education, but I also feel called to social service and social justice. I think that is why I have landed in positions like the Dean of Students." Mrs. Simmons embodies the quote emblazoned on the cafeteria wall, "Act justly, love tenderly, and walk humbly with your god," each day as she guides students in her duties of overseeing activities and disciplinary actions.
While her transition has been more challenging than anticipated this year, she sees it as a challenge to think in different ways. The most distinctive elements of the Notre Dame Prep experience are the many celebrated traditions. Mrs. Simmons says that this year "I have experienced traditions in a much different way than before," but her most memorable was the Gateway Ceremony. Reflecting upon this day, she mentions, "I, as an administrator, got to walk through the Gateway. Because I have worked at the Institute of Notre Dame, Notre Dame of Maryland University, and now working here, I was not only watching the new students go through, but I felt euphoric that there are three major institutions of the School Sisters of Notre Dame and I have been lucky enough to experience all of them." In the upcoming months, she is most looking forward to Gym Meet, having felt the energy of students during Wednesday practices, and is also excited for graduation this May.
A product of an all-girls Catholic education, Mrs. Simmons greatly values the environment cultivated in the Notre Dame Prep community. In these formative years, she finds it important to give "young girls education without comparison to the opposite sex and the opportunity to hold all of the leadership roles." Empowerment is at the heart of everything we do, and with administrators who bolster our creativity and confidence, young girls truly become women who transform the world.
Outside of school, Mrs. Simmons loves outdoors activities and cleaning. Her perfect day would be spent in the mountains either skiing or hiking with her family. One of the bright sides she experienced during the pandemic was quality time with her three sons and husband. Fondly, she mentioned, "We really learned to laugh, because that's all you can do sometimes." In this interview, it was evident that Mrs. Simmons spreads optimism, hope, humor, and joy to our community. Sophomore Bella Askey agrees: "Mrs. Simmons is always smiling in the hallways, and she is so easy to talk to. I can tell she cares a lot about the NDP community." While the administration hallway may be daunting at times, Mrs. Simmons is an approachable, caring mentor for everyone.
In response to the question, "What is one thing that you want each student to know about you?" Mrs. Simmons exclaimed, "I want everyone to know that I see them as a person, first and foremost, and that I will always treat you with respect." Each person can trust that they will be treated fairly and respectfully when interacting with the Dean of Students, and she truly values the dignity of all. Senior Ashley Phelan shares, "Since I'm on the Honor Board, I have gotten to work directly with Mrs. Simmons for a number of months now. She is always a friendly face in the hallways and is very approachable for anything you might need. She is a great addition to our community."
This year is far from what anyone imagined, but we can all find comfort in community and the bright moments. Continuing to think outside of the box and forming relationships can be a challenge in a time spent physically apart, but the bond shared in the NDP community will allow us to move forward. Mrs. Simmons exemplifies the mottos and missions that guide many community members through daily life, and she continues to provide unconditional support to the entire student body.