The Spirit of Gym Meet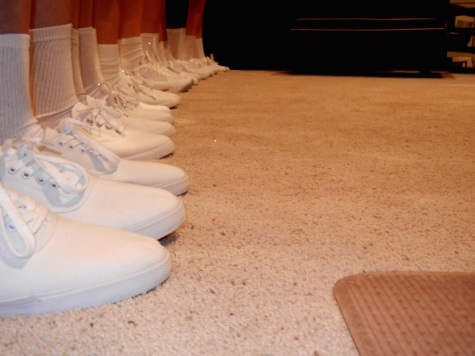 Tunics, Keds, and Spirit Oh My! From the first committee meeting, all the way up to Gym Meet day, the love for NDP is infectious.  A rainbow of colors, from Pink and Yellow, and Orange and Blue, to Sky and Teal, and Pink and Orange, light up the school with spirit, putting a smile on every single class member's face!
Despite the extreme inconveniences that occurred due to weather, every single class stepped up its game and brought its best voices, marched in impressively straight lines, aerobicized in rhythm, and danced in perfect time.  Undoubtedly, each class raised the bar for what they thought they were capable of and came together no matter what their obstacles were.
While Dress Rehearsal was a bit unconventional, performing in the morning, practicing in the afternoon, and leaving 2 hours early, the classes got a chance to show their other classmates the a preview of the greatness that was to come during Gym Meet.  Then came the long awaited day of Mini Meet.  Decked out in vibrant colors, every girl rocked it out from the first marching step to the final dance bow, with some girls even catching the live action on a Go Pro.
Then, the long awaited day finally came… GYM MEET! Even with the new schedule, every girl came to school with a smile on her face, and ready to go.  After two intense days of competition, the seniors brought it home on their Final Tour with a win.  Their perfectly synchronized march, head banging songs, legendary aerobics, and crowd pumping dance showed their rock star talents, always 150 strong.  The juniors' magical dance wowed the crowd and brought home the dance plaque for the second year in a row.  The sophomores' party in the USA proved their patriotism and energy, moving leaps and bounds from their time as 2017 Sweets.  The freshmen's fantasy dazzled the crowd the crowd with their infectious spirit, proving that gnomes and fairies are a force to be reckoned with.
The dedication and spirit of every member of NDP honored the tradition of Gym Meet and made 2015 another great year!