Top 10 Non-Christmas Christmas Movies
When you think of Christmas movies, you probably think of classics like "Home Alone" or "How the Grinch Stole Christmas." As much as I love those movies, sometimes, it can be tiring to see them year after year. If you're like me and are in need of a holiday recommendation that isn't "Elf," look no further. Here are ten great movies to watch this Christmas season:
"Little Women"
What better way to start this list than with the movie adaptation of the classic book "Little Women"? This 2019 period piece, told through alternating scenes from past and present, follows the lives of the four March sisters: Meg (Emma Watson), Jo (Saoirse Ronan), Beth (Eliza Scanlen), and Amy (Florence Pugh). Watch as each sister navigates the trials of growing up, falling in love, and following their dreams. It also stars popular actors like Timothée Chalamet and Meryl Streep.  Filled with romance and drama, this beautiful coming-of-age film will tug at your heartstrings and make you realize the value of family and love. Such a story makes it absolutely perfect for the holiday season.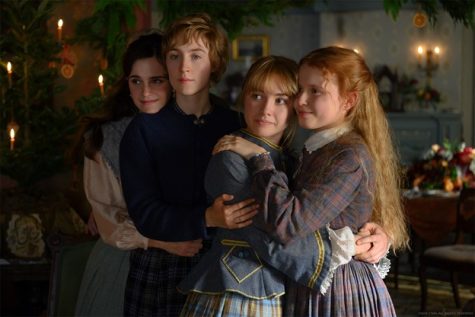 Image: Sony Pictures
Available on Amazon Prime Video and Hulu.
"Cloud 9"
If you're a fan of Disney Channel original movies, teen romance, or winter sports, this movie is the perfect winter film for you. "Cloud 9" follows the story of diva and amateur snowboarder Kayla Morgan (Dove Cameron). Watch as she's kicked off her team and forced to work with Will Cloud (Luke Benward), a promising ex-snowboarder who stopped after a freak accident left him injured and full of self-doubt. The two become unexpected friends, and she convinces him to help train her. Thanks to each other, the two learn the most important thing they both need to succeed: self-confidence. This lighthearted movie will make you feel nostalgic and just like a little kid again.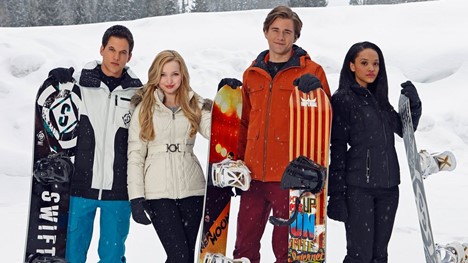 Image: Getty Images
Available on Amazon Prime Video and Disney+.
"Iron Man 3"
Those familiar with Marvel have certainly heard of the Iron Man trilogy. What they don't know is that its last installment, "Iron Man 3," makes for a fantastic Christmas movie. Robert Downey Jr. plays Tony Stark, the genius billionaire suffering from PTSD and anxiety following the traumatic events of "The Avengers." After an attempt on his life by the infamous terrorist known as the Mandarin, played by Ben Kingsley, Stark must use his own resourcefulness and intelligence to take back what's his and protect those he loves. Starting with a New Year's flashback and ending with a Christmas fireworks show, this movie of action and adventure is terrific for the holiday season.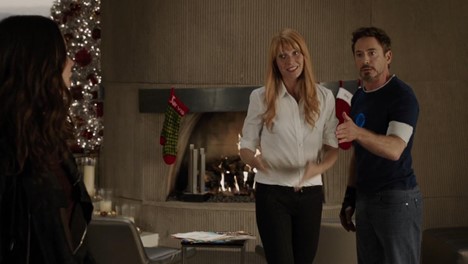 Image: Marvel
Available on Amazon Prime Video and Disney+.
"Batman Returns"
Another superhero movie that makes for a great Christmas film is this sequel to "Batman." Directed by Tim Burton, this movie tells the story of Bruce Wayne (Michael Keaton), alias Batman, following his defeat of the Joker in the previous film. It's Christmastime in Gotham City, and Batman is faced with several nefarious foes. There's the psychotic Penguin (Danny DeVito), the seductive Catwoman (Michelle Pfeiffer), and the cunning businessman Max Shreck (Christopher Walken). Each villain has their own agenda, but their plans have one thing in common: taking down Batman. The dark story stands in unique contrast to the usually cheery Christmas setting, making it a fascinating choice for this Christmas season.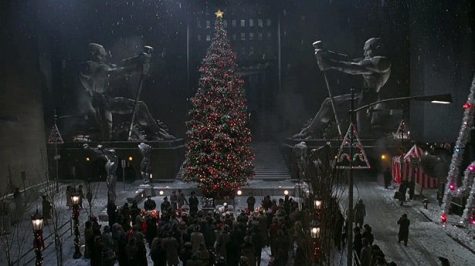 Image: Warner Bros.
Available on Amazon Prime Video.
"You've Got Mail"
If you love classic rom-com movies, "You've Got Mail" is a wonderful choice for you. This remake of the Christmas classic "The Shop Around the Corner" tells the story of two people falling in love with each other, even if they've never met. Or have they? Joe Fox (Tom Hanks), corporate chain owner of Foxbooks, and Kathleen Kelly (Meg Ryan), owner of a small, local bookstore, are utter business rivals by day, but by night, the two exchange anonymous, heartfelt emails, oblivious to each other's real identities. This rom-com, which takes place over the course of several months, will warm your heart and fill you with that unexplainable feel good Christmas feeling.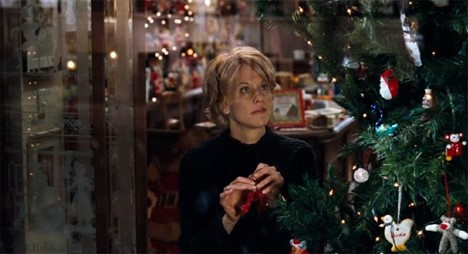 Image: kllingwordpress.com
Available on Amazon Prime Video.
"While You Were Sleeping"
This lesser known rom-com stars Sandra Bullock as a lovable but lonely train station worker Lucy Moderatz. Lucy is absolutely smitten with a handsome stranger, but after saving him from a mugging incident on Christmas day, he falls into a coma. In an even crazier mix-up, she gets mistaken for his fiancée by his quirky, offbeat family, and she gets swept into the whirlwind that is their life. This movie challenges the idea of love at first sight and shows you that love, whether it's romantic or familial, can always be found where you least expect it. Taking place from Christmas to after New Year's, this heartfelt winter film focuses on family and the unpredictability of love.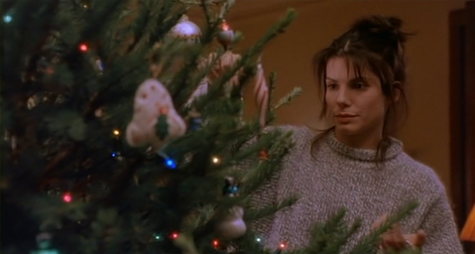 Image: valfre.com
Available on Amazon Prime Video and Disney+.
"Gremlins"
If you're in the mood for something on the slightly scarier side, this movie is just for you. Follow along as Billy Peltzer (Zach Galligan) receives the most bizarre Christmas gift from his father: a strange, but cute, creature named Gizmo. This creature comes with three rules: don't expose him to light, water, or feed him after midnight. But when all three happen, the chaos that results ends up wreaking havoc throughout the entire town, and it's up to Billy and his friend Kate (Phoebe Cates) to stop it. A mix of horror and fantasy, this Christmas movie will keep you on the edge of your seat but won't leave you with nightmares.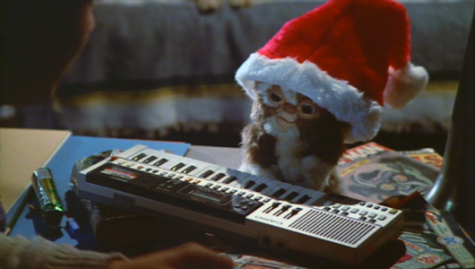 Image: docsmartypants.com
Available on Amazon Prime Video.
"Mean Girls"
This classic teen comedy may not exactly strike you as a Christmas movie, but it sure qualifies. It stars Rachel McAdams, Lacey Chabert, and Amanda Seyfried as the Plastics, the most infamous clique at North Shore High School. Lindsey Lohan stars as Cady, who is attending high school for the first time after being homeschooled all her life. The Plastics take an interest in Cady, letting her join the group, but Cady soon realizes there's more to popularity than meets the eye. While "Mean Girls" doesn't solely take place during Christmas, it will fill you with that positive Christmas feel. Besides, who could possibly forget the iconic dance number to "Jingle Bell Rock"?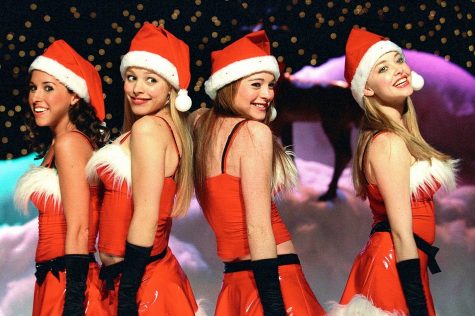 Image: Paramount
Available on Amazon Prime Video.
"Miracle"
This historical drama is great for any fans of winter sports, especially ice hockey. Kurt Russel stars as Herb Brooks, who's been chosen to lead the 1980 U.S. men's Olympic hockey team. Brooks's unique but harsh coaching style is met with some resistance from his team of stubborn college all-stars, but they soon realize that Brooks is just who they need to unite them and teach them how to put aside their differences so they can work together. The team must face seemingly impossible odds when they go head to head with their toughest adversary yet: the undefeated Soviet team. This story of patriotism, family, and triumph will undoubtedly lift your spirits this Christmas.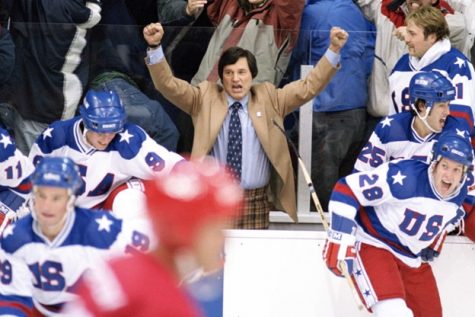 Image: Everett Collection
Available on Netflix, Amazon Prime Video, and Disney+.
"Groundhog Day"
If you're looking for a classic winter movie, look no further. "Groundhog Day" is a hilarious comedy with a nice hint of romance. Watch as Phil Connors (Bill Murray), a pessimistic, selfish weatherman travels to the quaint town of Punxsutawney, Pennsylvania, to do a report on their annual Groundhog Day festivities. Then, Phil finds himself living that fateful day, Feb. 2, over and over again. Now, he must navigate this time loop and learn the importance of becoming a good person. While this movie does take place all the way in February, its message about kindness and caring for those other than yourself makes it the perfect movie for the Christmas season.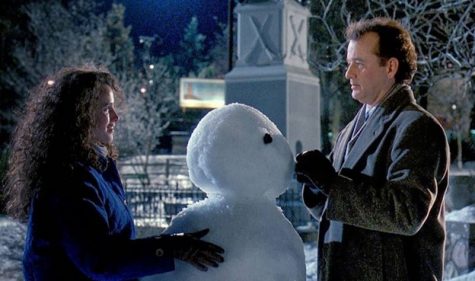 Image: 500daysoffilm.com
Available on Netflix and Amazon Prime Video.
Whether you're tired of re-watching the classics, looking to try something new, or just want something to put on in the background during your Christmas celebrations, this list is sure to have something for you. Enjoy and have a Merry Christmas!