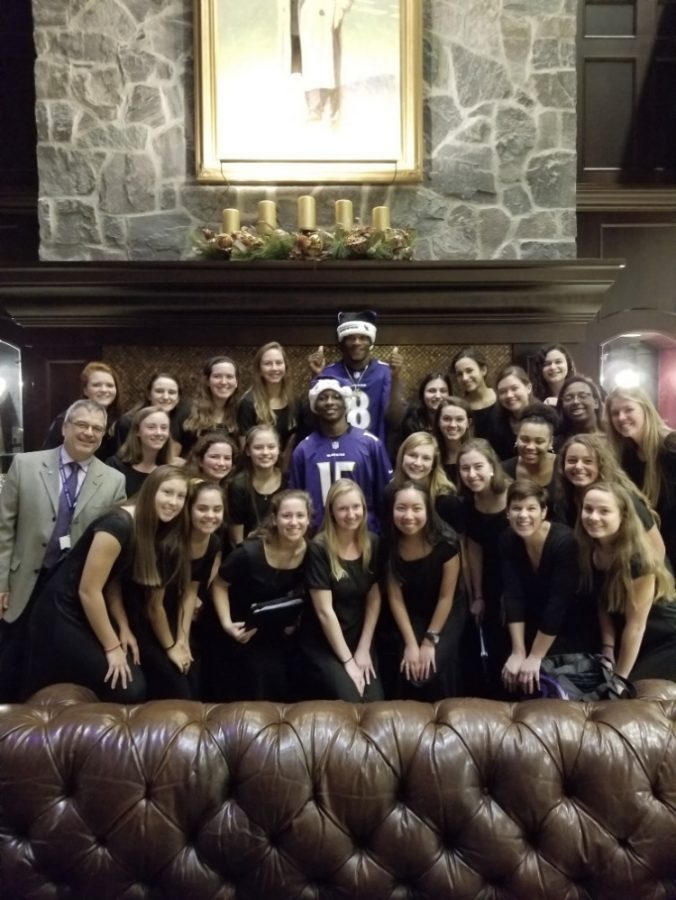 On January 11, the soul of Baltimore wept as the Baltimore Ravens lost the divisional round of the playoffs against the Tennessee Titans. The game was more than just a heavy defeat. With the Ravens' reputation after a 14-2 season and Lamar Jackson's record-breaking rushing yards for a quarterback in a single season of 1,039 yards, Baltimore's spirits, confidence, and hope for the Lombardi Trophy broke at the final whistle blow.
Notre Dame Preparatory felt their season's success, but not necessarily on the field. On December 3, NDP's Chamber Choir enthusiastically performed carols during the Ravens Christmas Party at the Under Armour Performance Center. With bright eyes and strong yet angelic voices, Chamber Choir sang their hearts out with excitement and anticipation of seeing a Ravens' player pass by. With low shoulders, they began to feel that the gig would not result in an opportunity for a signature. However, with two songs left in the set-list, Lamar Jackson and Marquise "Hollywood" Brown appeared behind them with genuine smiles and gratitude for their performance. Left with a picture and a round of high-fives, Chamber Choir drove back to school awing at their hands that graced the hands of these star players.
While it is saddening to see such a successful season come to a sudden end, let us reflect on the community the Baltimore Ravens has created. According to WJZ, Baltimore is the most dangerous city in Maryland with a murder rate of 51.3% in 2018. In addition 21.8% of Baltimore citizens live in poverty according to the U.S. Census. These statistics should make our community feel hopeless. However, Baltimore, home to the MVP of the season, Coach of the season, and Assistant Coach of the season, is anything but hopeless. It is a city of underdogs anticipating their own opportunity to beat the cycle of poverty and violence.
While Baltimore watches this Super Bowl with despair, the city's community grows stronger and brighter. If Baltimore is capable of coming together to cheer on our superstars on the field, then Baltimore is just as capable to cheer on one another to overcome the violence of the city.