Frightening Fudge: a Scary-Good Recipe
Every fall, I take the time to bake pumpkin muffins, a family favorite. While I still love that recipe, I wanted to venture out and try to make a new dessert. So, after watching countless Tastemade Halloween videos, I decided to take a stab at making my own Halloween Treat.
Inspired by my classmates' answer to "What should I bake next?", I decided that "Mummy Fudge" (chocolate fudge with icing on top) was a delicious challenge I was willing to take on. I tried it out, and personally, I think it came out great. The recipe was easy to follow, and there was not much hassle involved.
Since I figured others would love to make fudge too (the finished product certainly boosts your confidence), I wanted to share this recipe with the NDP community. Without further ado, here is a fun recipe you can make to impress your friends, have a delicious snack, or just use to enjoy the baking process. (courtesy of Melissa H.'s "One Bowl Chocolate Fudge" recipe on All Recipes).
Ingredients:
16 oz semisweet chocolate
14 oz of sweetened condensed milk (1 can)
2 teaspoons vanilla extract
Tube of white decorating frosting
Candy eyes (1 pack)
Materials:
8×8 Glass Pan
Aluminum Foil
Rubber Spatula (this is to stir the fudge and pack it into the pan – you can use alternatives, but this works well)
Microwavable bowl
Procedure:
Step 1: Gather your ingredients (note: the vanilla isn't pictured – I forgot it amid my photoshoot)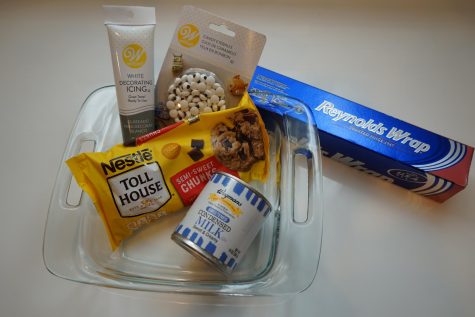 Step 2: Line your 8×8 pan with aluminum foil. The aluminum foil keeps your fudge moist.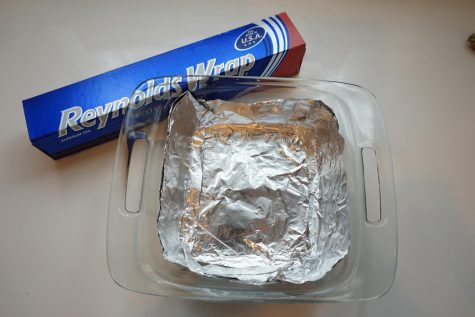 Step 3: Chop up your chocolate, then place it in your microwavable bowl with the condensed milk. Microwave on high in 30 second increments for about 2 minutes, or whenever your mixture is smooth*. (Another side note: the picture shows the chocolate before chopping – I needed to chop up the chocolate into smaller pieces for easier melting in the microwave)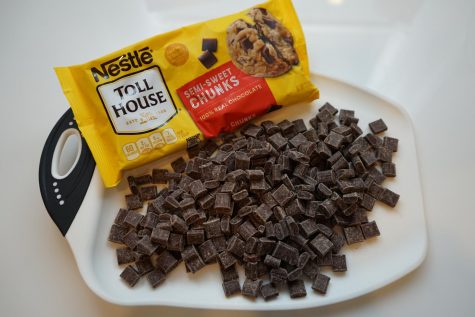 Step 4: Add vanilla to your chocolate mixture.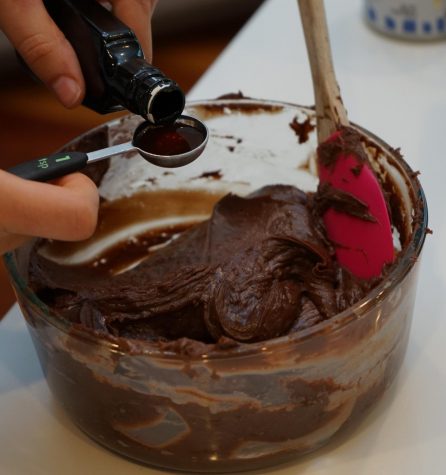 Step 5: Pour chocolate mixture into your tin-foiled pan and pat down/flatten. Once ready, put it into the fridge and let it set for about 2 hours.
Before Setting: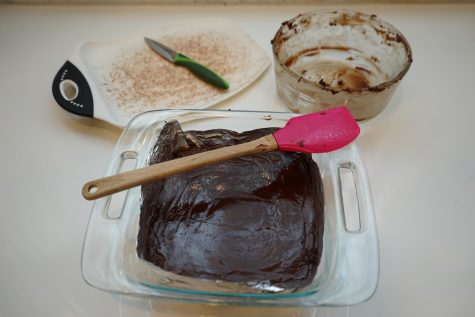 After Setting: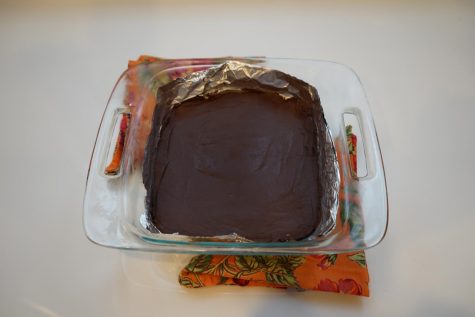 Step 6: Carefully remove fudge from the pan and cut into rectangles. Frost them to look like mummies**, add candy eyes, then enjoy!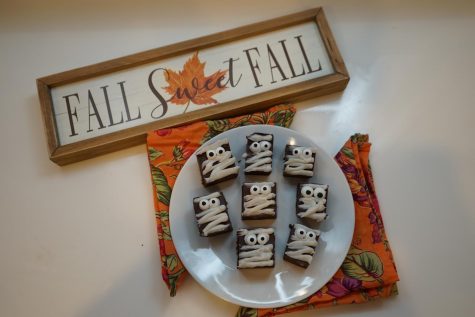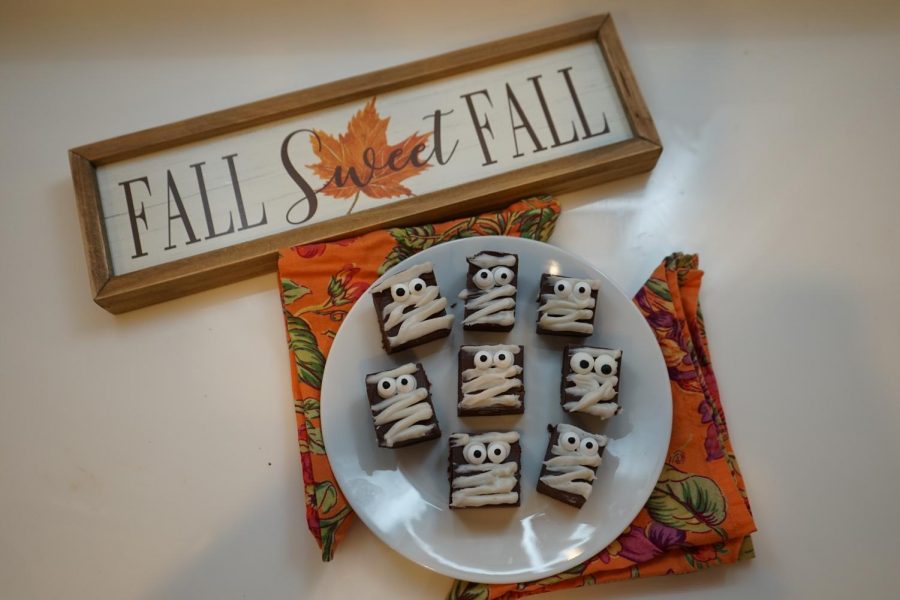 Side Notes:
*Chocolate Melting: Melting chocolate in the microwave takes patience and a watchful eye. The chocolate can easily burn if someone's not careful, so here is a resource on tips for melting chocolate: https://www.thekitchn.com/how-to-melt-chocolate-in-the-microwave-252065
**Since I didn't have a special frosting tip for the mummies, I put the tube of frosting into a sandwich-sized Ziploc Bag, tied a rubber band around it, and cut the tip of the bag off to make it look right. Here's a website I used to learn this "Ziploc Method" – https://www.bakingkneads.com/how-to-frost-cupcakes-without-a-tip/
Final Thoughts:
I had so much fun making and sharing these little bites of joy, and I really hope you have as much fun as me! Happy spooky season!