America Wins!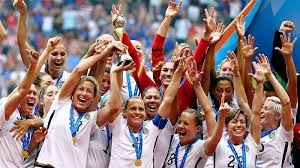 Sitting in the family room with my close relatives, sitting on the edge of our seats during the final game between the United States and Japan was a part of my summer I will never forget. Yes, I am talking about the Woman's World Cup.  Years prior, the United States lost to Japan, so people were on the edge of their seats, hoping that the US Woman's Team would pull through with the win.
The final game kicked off with a great start! In less then 20 minutes, the US Women's Team led a 4-0 win against Japan, but there was no guarantee or hope that their lead would continue. The US could not let up or feel that they were going to win, because anything could happen.
At 28 minutes, Japan scored a goal and led all American's at home with a bit of unease, but with the US' lead, they were still feeling confident. The US team and Japan each got one more goal, finalizing the score of 5-2.
Our household screamed and cheered and roared even as they played the last couple of minutes. I had a feeling in my stomach that the United States would bring home the championship win.
Not only was I right, but the women's team scored the highest amount of goals in a Final World Cup Game! Hope Solo, the women's treasured goalkeeper, and Carli Lloyd, women's midfielder, both were awarded great honors. Hope Solo was awarded the best goalkeeper, the Golden Glove Award, and Lloyd was awarded best field player, the Golden Ball Award.
Seeing the Women's Team dominate, play their hearts out, and win the game gave me excitement for the new year and that women together can do great things, just like NDP. If we join together like a team, we can do great things.
The USA is the formidable opponent, winning the Women's World Cup now three times. It's crazy to think that the US, in the World Cup's 17 games they played, scored 34 goals and only let in five. The US Women's Team is the team to beat, and I look forward to the Woman's World Cup and what they have in store for their opponents in the next four years.