My Problem with One Direction
Anna Bowman, Feature Editor
May 16, 2012
Filed under Features, Music, Opinion, Reviews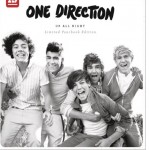 One Direction has been getting so much hype here in the U.S. that I decided to try to see what's so great about their music.
To start, I figured I'd borrow the One Direction album, "Up All Night," from my sister. Now, you're probably thinking I mean my 9 year old sister, but I don't; I borrow it from my older, 18 year old sister. Frightening, I know.
My first reaction to this One Direction album was "oh yea, plug-ins."
Not that plug-ins are uncommon, in fact that is my problem here, they are beyond overused. I like hearing actual instruments. I like their individual sounds. I hate that nowadays everything sounds the same.
It doesn't get better, but how can it with lyrics such as: "Baby, you light up my world like nobody else/ The way that you flip your hair gets me overwhelmed." Can't you just feel the depth behind the lyrics? It's palpable.
The worst part is they didn't even write it. That's why the songs on the entire album give off a feeling of disconnect. An album should be a collection of songs that go together, "Up All Night" doesn't even give off a semblance of connection. But how can it when the band did not write any of the songs?
The entire thing is really reminiscent of Backstreet Boys. I'd just like to take this moment to say, really? Really, people? You could pick anything to bring back from the 90s and you choose Boy Bands? Really?! So much great music came from the 90s, and boy bands make the comeback. What about alternative music? You want to bring something back and make it popular, bring back Alternative. But, no, that's not going to happen.
I started with the popular music tracks that "everyone" loves.
Next I try "Tell Me a Lie."
It's not all chorus like "What Makes You Beautiful," but it fails in its own right.
I guess my main problem is that I know that all of their songs will be about the same things: a girl, partying, losing the girl… presumably in that order.
I may not like the lyrics; however, it is undeniable that all the members of One Direction can sing. All of their voices are worthy of theater level work. However, I refuse to concede that their great voice quality makes up for the lack of decent song lyrics.
America doesn't like them for their talent though. America likes them because they are marketable. It is no secret that American girls are generally enchanted by a British accent, add in that these boys are generally attractive and you have the formula for every twelve year old girl's heart throb.
I can't review the music without looking at the fan base as well. Let's just say, the fan base is frightening. Picture a couple of 13 year old girls, now multiply that by a couple million and you have the One Direction fan base. But hey, if screaming mobs of fan girls is your thing, One Direction is probably for you.
On the up side, I don't think I'll have to wait long for this fad to be over. One Direction has no staying power. They are a band that sings about simple things with no depth to them. Their audience consists of preteen girls who are beyond fickle with their taste in music and new artists. I predict that this fad will be over soon. My only fear is that another Bieber will generate in their place.